World Children's Day tomorrow: President, PM issue messages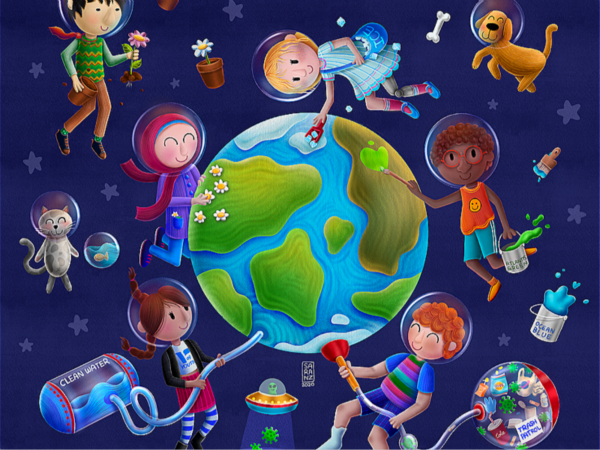 DHAKA, Oct 02, 2022 (BSS) - With commencement of Children Rights Week, the World Children's Day-2022 will be observed in the country tomorrow.
Bangladesh celebrates the World Children's Day every year on the first Monday of October.
At the same time, the Children Rights Week will be observed from October 4-11.
The theme of this year's day is 'Children will build a golden country by spreading rays of light (Gorbey Shishu Sonar Desh, Choriye Diye Alo er Resh).'
President M Abdul Hamid and Prime Minister Sheikh Hasina today greeted the children on the occasion of the World Children's Day and Children Right Week-2022, urging them to groom themselves as worthy citizens of the country.

The President, in his message, said children will lead the future world and so, there is no alternative to ensuring health, nutrition, education, safety and healthy recreation for the mental and cultural development of children.
"If today's children grow up with knowledge and progressive thinking, it will have a positive impact on the world in the days to come," the head of the state added.
To build a livable world for children, he said, fundamental rights of children must be ensured and patriotism as well as humanitarian qualities must be built among them.
In her message, the Prime Minister said Father of the Nation Bangabandhu Sheikh Mujibur Rahman formulated the 'Children Act' in the country in 1974 in order to ensure children's rights.
She said Bangladesh is one of the signatory countries of The United Nations Convention on the Rights of the Child (UNCRC) or the UN Children's Rights Charter.
Highlighting comprehensive measures taken by the ruling Awami League government to ensure health, education, recreation and welfare of the children, the premier said the government has formulated the National Child Policy 2011, Children Act-2013 and the Child Marriage Prevention Act-2017.
Besides, national and international children's day celebrations, rehabilitation of underprivileged children and development programmes for specially-abled children are being implemented, she added.
"The Awami League-led government has taken all necessary steps for the welfare of children and to prepare them to face the challenges of the future. We are working tirelessly to ensure children's health, education and entertainment," she continued.
Both the President and the Premier wished success of all the programmes taken for marking the day and the week.