Farida, Shyamal elected president, general secy of JPC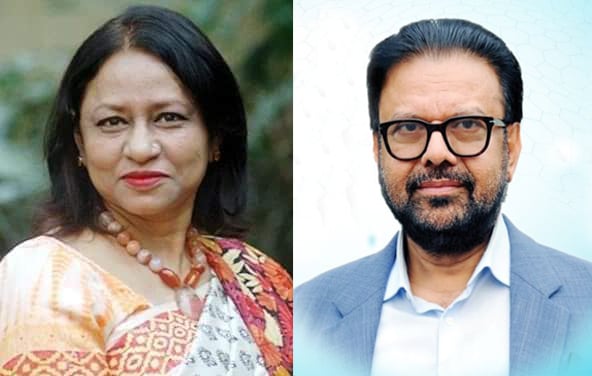 DHAKA, Dec 31, 2022 (BSS) - Farida Yasmin of Dainik Ittefaq and Shyamal Dutta of Dainik Bhorer Kagoj of the pro-liberation journalists forum have been elected president and general secretary (GS) of the Jatiya Press Club (JPC) respectively for the next two years.
Farida was elected president bagging 567 votes while her rival Bangladesh Sangbad Sangstha (BSS) News Editor Kamal Uddin Sabuj of pro-BNP panel got 401 votes.
Bhorer Kagoj editor Shyamal Dutta was elected general secretary bagging 496 votes while his rival Elias Khan of Dainik Amar Desh got 474 votes, according to results announced here today.
Chief election commissioner of JPC managing committee election Mostafa-e-Jamil announced the results around 8pm tonight.
Earlier, the voting of JPC was held from 9am to 5pm without any break.
Hasan Hafiz of pro-BNP panel was elected senior vice-president bagging 559 votes while his rival Kartik Chattarjee of pro-liberation journalists' panel secured 404 votes.
Rezwanul Haque Raza of pro-liberation journalists' forum (Masranga Television) was elected vice-president bagging 583 votes while his rival Syed Ali Asfar of pro-BNP panel secured 359 votes.

BSS News Editor Ayub Bhuiyan and Md Ashraf Ali of pro-liberation journalists' forum have been elected joint general secretaries securing 540 and 491 votes respectively defeating their rivals Elias Hossain and Saidul Hossain Sahed of pro-BNP panel who got 431 and 269 votes respectively.
Shahed Chowdhury of pro-liberation journalists' forum (Dainik Samakal) was elected treasurer bagging 576 votes while his rivals Md Hasan Sharif and Shahnewaj Dulal secured 181 and 208 votes respectively.
Elected executive committee members are: Farid Hossain (495 votes), Kazi Rawnak Hossain (422 votes), Shahnaj Siddiqui Soma (390 votes), Kalyan Saha (382 votes), Shahnaj Begum Poly (360 votes), Syed Abdal Ahmed (347 votes), Julhas Alam (345 votes), Bakhtiar Rana (330 votes), Md Momin Hossain (330 votes) and Simanto Khokon (289 votes).