Occupants of Jangal Salimpur to be rehabilitated: Hasan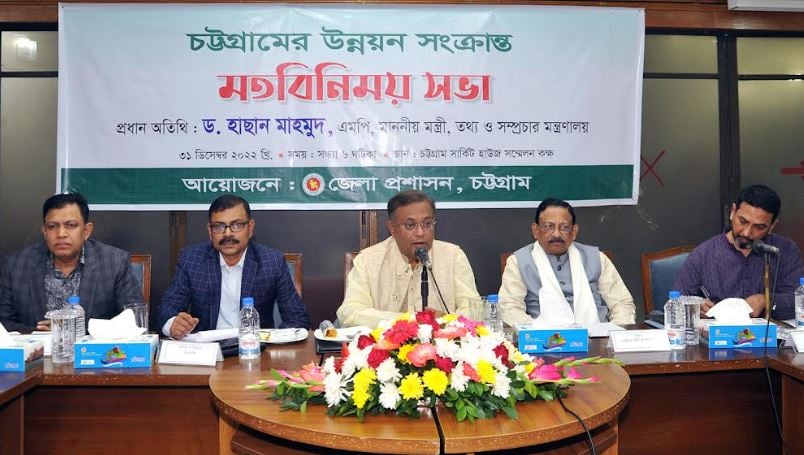 CHATTOGRAM, Dec 31, 2022 (BSS) - Information and Broadcasting Minister Dr Hasan Mahmud today said police have to carry out drives against the terrorists who occupied the government lands at Jangal Salimpur.

"There has to be a plan as none can construct new establishment (at Jangal Salimpur). The persons who occupied the government land should be reassured and given real hope that they will be rehabilitated.

Preliminary process has to be started in favor of the government agencies to get allotment there," he told a view-exchange meeting over the development issue of the port city at Circuit House here.

Hasan, also Awami League joint general secretary, said the check post of Jangal Salimpur should be strengthened and steps should be taken as none can bring any construction materials. The all illegal utility services should be closed as no one can stay there, he added.

"It is needed to assure those persons and call the leaders of Jangal Salimpur and assure them that we are giving space to the National Housing Authority and they will build flats here for you," the minister said.

Chattogram City Mayor and Freedom Fighter Rezaul Karim Chowdhury, Zila Parishad chairman ATM Pearul Islam, Chattogram Range DIG Anwar Hossain, Chattogram Metropolitan Police Commissioner Krishnapada Roy, district Police Super SM Shafiul Alam, CDA chief engineer Kazi Hasan Bin Shams, architect Manjur KH Uddin and Sitakunda upazila chairman SM Al Mamun, among others, addressed the meeting while deputy commissioner Bashor Mohammad Fakhruzzaman conducted it.