Chattogram AL leaders greet Hasan Mahmud with flower's bouquets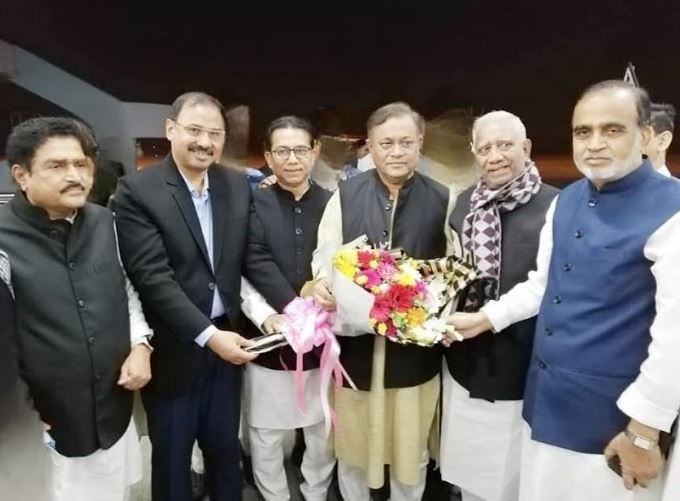 CHATTOGRAM, Dec 31, 2022 (BSS) - Leaders and workers of Chattogram unit of Awami League (AL) and people of all walks extended greetings to Information and Broadcasting Minister Dr Hasan Mahmud for his being elected as the top joint general secretary post of AL.
Getting the information of the arrival of the minister, several hundred leaders and workers thronged the Chattogram Shah Amanat International Airport to greet Hasan Mahmud.

They handed over flower's bouquets to the minister on the occasion.
Leaders and workers of Chattogram city, Chattogram district north and south units of AL and associate and like-minded bodies congratulated him.
"Whenever Bangabandhu's daughter Prime Minister Sheikh Hasina gave me any responsibility, I discharged it with utmost sincerity. Earlier, I served as Forestry and Environment Affairs Secretary, Publicity and Publications Secretary and Joint General Secretary. I tried to do my duty with sincerity," Hasan said pointing to the crowd at the airport.
He said the premier again gave him the charge of joint general secretary post. "Now my responsibility is to give my best efforts with complete dedication," he said.
The AL joint general secretary sought doa and cooperation from all in discharging his duty.
Chattogram City AL acting president Mahatab Uddin Chowdhury, general secretary and former Chattogram city mayor AJM Nasir Uddin, Chattogram North District AL president MA Salam, South District AL general secretary Mafizur Rahman, North District AL Vice-President Abul Kashem Chishti, Rangunia Upazila Chairman Swajan Kumar Talukder, religious affairs secretary and Rangunia municipality mayor Shahjahan Shikder,
Organizing secretary Nazrul Islam Talukder, members and CDA board member Muhammad Ali Shah and Akter Hossain Khan, Hathajari upazila chairman Rashedul Alam, Rangunia upazila AL general secretary Engineer Shamsul Alam Talukder, joint general secretary Iqbal Hossain, religious affairs secretary Jasim Uddin Talukder and AL leader Mujibul Islam Sarfi were present, among others.
Leaders and workers of Chattogram City unit of Awami Jubo League, Swechchhasebak League, Chhatra League, South District Jubo League and other local units of AL associate bodies greeted the minister with flower's bouquets.
Chattogram AL leaders and workers also greeted the minister at Chattogram Circuit House.