Razzaque for putting emphasis on research to boost rice production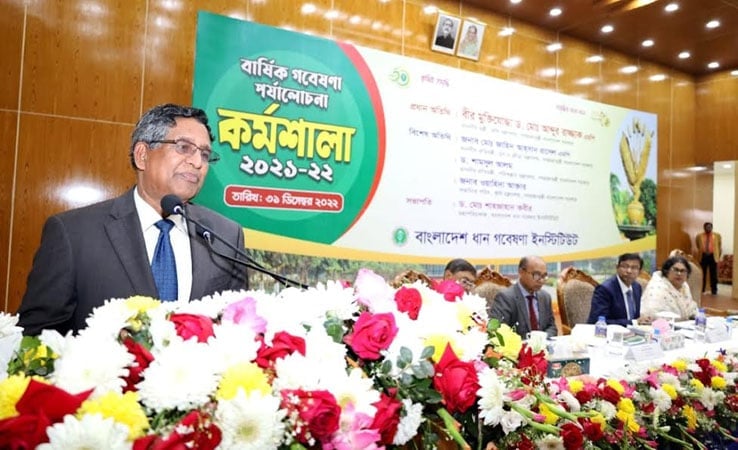 GAZIPUR, Dec 31, 2022 (BSS) - Agriculture Minister Dr Md Abdur Razzaque today called for putting further emphasis on research works for boosting rice production as population is increasing day by day side by side with shrinking farmland.
"Land for paddy cultivation is declining due to cultivation of vegetables on farmland. . . . in such a situation, more emphasis should be given on research works to increase rice production," he said.
The minister was addressing the inaugural function of annual research review workshop at Bangladesh Rice Research Institute (BRRI) here, said a press release.
Noting that demand of rice will increase in the coming days, Dr Razzaque said invented varieties of rice should be expanded rapidly.
Since the present government is working to ensure nutritious food for all as well as use of land for commercial production of various fruits is increasing, he said and asked all scientists and officials to face the challenges of future with a coordinated way.
Calling for conducting an objective study to find out the reason why the price of rice is not falling despite bumper production, the minister said, "In BRRI's research, we found several reasons. Apart from BRRI, BIDS, CPD and other research institutes also should conduct research on this issue".
State Minister for Planning Dr Shamsul Alam and Agriculture Secretary Wahida Akter addressed the function as special guests while Bangladesh Agricultural Research Council (BARC) Executive Chairman Shaikh Mohammad Bokhtiar, Bangladesh Agricultural Development Corporation (BADC) Chairman Abdullah Sajjad and Department of Agricultural Extension (DAE) Director General Badal Chandra Biswas spoke as guests of honor.
BRRI Director General Dr Md Shahjahan Kabir gave welcome address and presided over the inaugural function.
Dr Shahjahan said Aman season has had a bumper yield this year, so there will be no shortage of rice till next June, instead there will be a surplus of 42 lakh tonnes of rice.
Apart from the rice demand of 17 crore people, non-human consumption of 26 percent has also been taken into consideration during estimating the rice, he added.
Noting that researches are being conducted to know the reasons behind high price of rice, the BRRI DG said, the studies found that rice mill owners and retailers are making extra profits while the rice mill owners are making Taka 8-14 profit in per kg.
Pointing that the production cost of farmers has also increased slightly, Shahjahan said apart from that corporate groups are trying to control the rice market.