650 women get shari on Durga Puja in Rajshahi city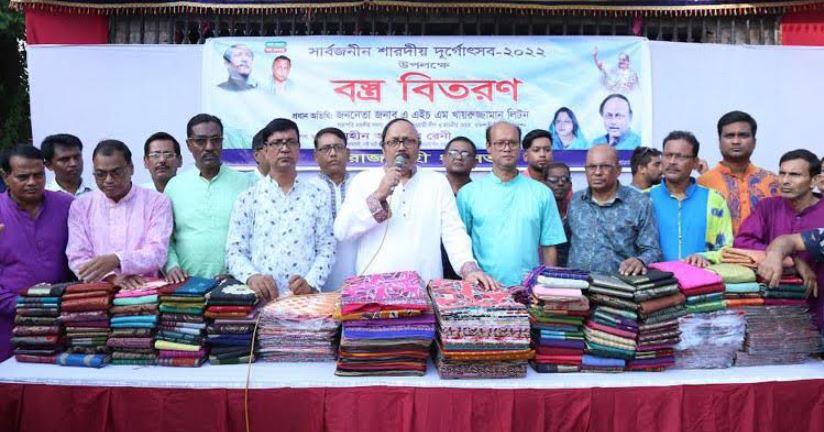 RAJSHAHI, Oct 1, 2022 (BSS) - Around 650 women were given shari on the occasion of Durga Puja, largest religious festival of the Hindu community, to make sure they celebrate their festival with enthusiasm and festivity.
Rajshahi Dharmasava organized the shari distribution ceremony at its premises in the city yesterday evening.
Presidium Member of Bangladesh Awami League and Mayor of Rajshahi City Corporation (RCC) AHM Khairuzzaman Liton attended the ceremony and distributed the female wears as chief guest.

RCC Ward Councilor Abdul Hamid Sarker, Rajshahi City General Secretary of Bangladesh Hindu Buddhist Christian Oikya Parishad Shymal Kumar Ghosh, city unit president of Bangladesh Puja Udjapan Parishad Advocate Sarat Chandra Sarker and former vice-president Alok Kumar Ghosh also spoke on the occasion.
Mayor Liton said the present government under the prudent and visionary leadership of Prime Minister Sheikh Hasina is very much sincere in maintaining social and communal harmony for overall development of the nation.
Since immemorial time, Bangladesh has been a country of communal harmony as people of all faiths are now living in the country amid peace and tranquility.

Time has come to become united with non-communal spirit to thwart any sorts of rumor and falsehood for sake of the country's development.

At present, the country is going forward after facing multifarious challenges and obstacles due to the prudent and farsighted leadership of Prime Minister Sheikh Hasina.