Genital Fistula Referral and Management Center launched at RpMCH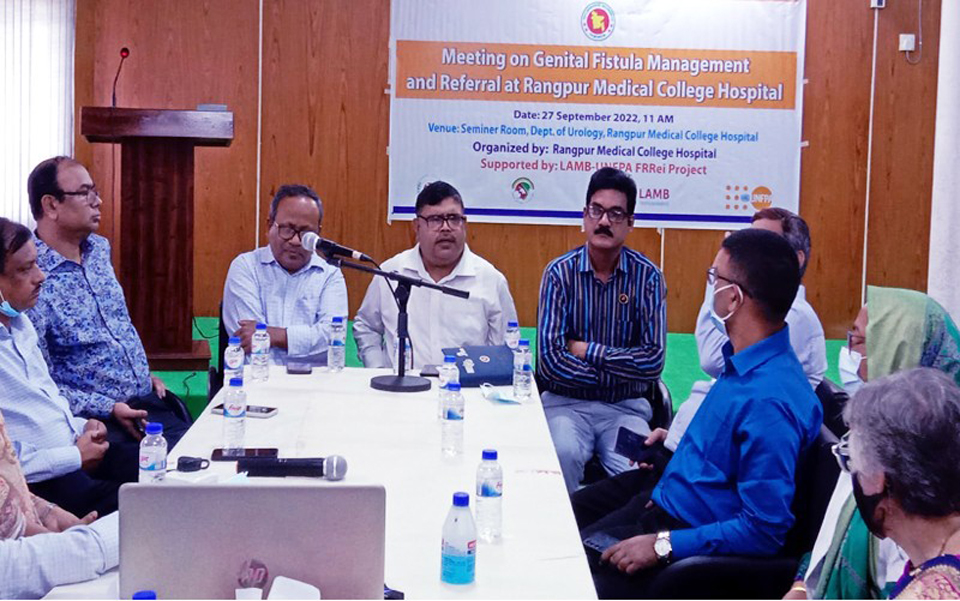 RANGPUR, Sept 28, 2022 (BSS) - A Fistula corner named 'Genital Fistula Referral and Management Center' was launched at the Department of Urology of Rangpur Medical College Hospital (RpMCH) here on Tuesday to facilitate access to consultation and treatment for obstetric and genital fistula patients.

Lutheran Aid to Medicine in Bangladesh (LAMB) established the center with support of the UNFPA Bangladesh and LAMB Elimination of Genital Fistula by Capturing, Treating, Rehabilitating and Reintegrating in Bangladesh (FRRei) Project.

Principal of RpMCH Professor Dr. Bimal Chandra Roy formally inaugurated the center in a function arranged by RpMCH as the chief guest.

Vice Principal of RpMCH Professor Dr. Md. Mahfuzer Rahman, Rangpur Divisional Director (Health) Dr. Abu Md. Zakirul Islam, Director of RpMCH Dr. Shariful Hasan, Head of Department of Urology of RpMCH Dr. Md. Shahidul Islam Sugom, its Head of Department of Obstetrics and Gynecology Dr. Sharmin Akhter, Director of LAMB's research department Stacy Saha were present.

A views-exchange meeting titled 'Genital fistula management' was also arranged on the occasion.

Ekushey Padak winner Professor Dr. Sayeba Akhter, Technical Officer of UNFPA Bangladesh Dr. Animesh Biswas, Program Manager of LAMB FRRei Project Mahatab Liton and its Deputy Project Manager Dr. Tahmina Khatun Sonia addressed the event virtually.

The experts said genital fistula is a complicated problem, but most of the people keep it secret. The obstetric fistula problems begin due to delayed and obstructed labor, the said.

LAMB has been working to eliminate fistula disease in eight districts of the country with the financial support of UNFPA-Bangladesh and technical support of the Department of Health aiming at making Bangladesh free from fistula by 2030.

The participating specialist doctors discussed in detail the ways to get rid of the fistula disease besides portraying the horrors of the fistula patients.

The chief guest said the national data regarding the treatment rate of fistula patients is not very promising.

He requested Head of the Department of Urology of RpMCH Associate Professor Dr. Md. Shahidul Islam Sugom to get back at least 100 fistula patients to healthy life every year through surgery.

"I will extend my full cooperation in this regard for conducting surgery of fistula patients at the RpMCH," he added.

The participating professors and physicians from all departments of RpMCH expressed their commitments to help each other and work towards creating a fistula-free Bangladesh.