JU VC pays tribute to Bangabandhu at Tungipara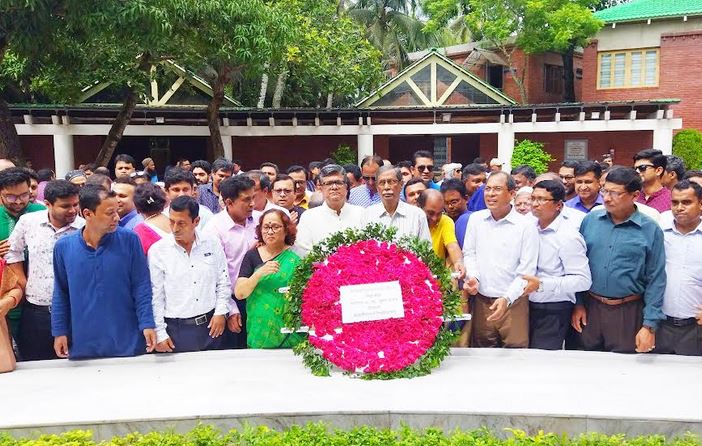 SAVAR, Sept 24, 2022 (BSS) - The newly appointed Vice Chancellor of Jahangirnagar University (JU) Prof Dr Nurul Alam today paid glowing tributes to Father of the Nation Bangabandhu Sheikh Mujibur Rahman by placing a wreath at his mausoleum at Tungipara, Gopalganj.
After laying the wreath, the VC stood in solemn silence for sometime as a mark of profound respect to the memory of Bangabandhu, the architect of independence.
Later, the VC offered prayers seeking eternal peace of the departed souls of the Father of the Nation and other martyrs of the August 15, 1975 carnage.
Besides, a special prayer was also offered wishing for longevity of Prime Minister Sheikh Hasina.
JU Pro VC (Administration) Prof Sheikh Manzurul Huq, JU treasurer Prof Rasheda Akhtar, President of Bangabandhu Shikkok Parishad Prof Ajit Kumar Majumdar, Secretary of Bangabandhu Shikkok Parishad Prof Khalid Kuddus, President of JU Teachers Association Prof Laek Sazzad Andallah, JU proctor A S M Firoj Ul Hasan, deans of different faculties and around 200 teachers, officials and journalists of the university, among others, were present.
Earlier, according to Article 11 (1) of the Jahangirnagar University Act 1973, the Chancellor of the university, President Abdul Hamid, appointed Prof Nurul Alam as Vice Chancellor of the university on September 13.