Fire in Sonargaon packaging factory under control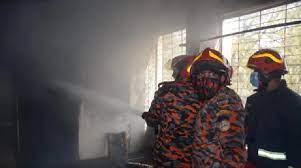 DHAKA, July 4, 2022 (BSS) - Firefighters have brought the blaze that broke out at a packaging factory at Meghna Economic Zone of Sonargaon in Narayanganj under control around 11:20am today.
One person was rescued during the operation, said the fire service sources and locals.
"Eleven fire service units have brought the blaze under control... Nothing can be said right now about the reason or the damage of the fire as dousing the fire is the utmost priority for us at this moment," Fire Service and Civil Defence Director General Brigadier General Md Main Uddin told the newsmen following a look-up on the site.
According to the locals and factory workers, the fire started around 7:20am at the 'Sonargaon Printing and Packaging Factory' and quickly spread to the floor under it.
Around 7:40am, a fire service unit reached the spot on information. Later, other units from Sonargaon, Gajaria, Demra, Siddikbazar and Narayanganj rushed to the spot to control the fire.