JU approves Tk 279.13cr budget for FY 2022-23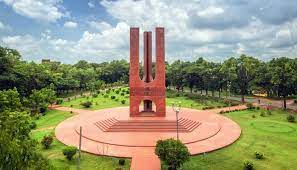 SAVAR, June 25, 2022 (BSS)- The senate of Jahangirnagar University (JU) on Friday approved its proposed annual budget of Taka 279.13 crore for the 2022-23 fiscal year.

The budget was passed at the senate meeting presided over by JU Vice- Chancellor Prof Dr. Md. Nurul Alam. JU treasurer Prof Dr Rasheda Akhtar presented the budget at the meeting attended by senate members and journalists.

Earlier on June 12, JU syndicate approved the budget of 2022-23 fiscal year and recommended for approval in the Senate.

In this year, the major portion of the budget, 35.06 per cent or Taka 97.86 crore would be spent for salaries, allowances of teachers and employees.

At the same time, the university allocated Taka 4.4 crore, 1.58 per cent of the total budget for research and Taka 2.74 crore, 0.98 per cent for medical services.

Besides, the university allocated Taka 32.1 crore for administrative cost, Tk 30.68 crore for pension and retirement facilities, Taka 3.75 crore for students scholarship and fellowship and Taka 5.16 crore for other purposes.

According to the proposed budget, the university will earn Taka 22 crore from its internal sources while the rest amount Taka 257.13 will come from the University Grants Commission. The budget showed a deficit of Taka 42.90 crore.