Diplomats appreciate Dhaka not stepping into Myanmar's provocation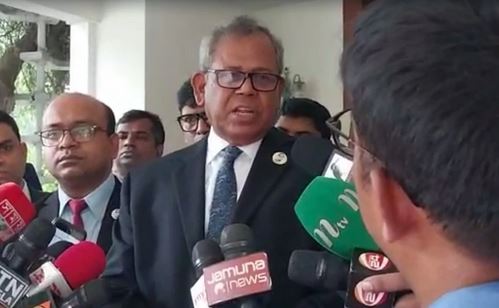 DHAKA, Sept 20, 2022 (BSS) – Diplomats of different countries stationed here today appreciated Bangladesh's "extreme patiently" role of peacefully handling the tense situation prevailing on Bangladesh-Myanmar border instead of "stepping into Myanmar's provocation".

"They assured us (diplomats) that their respective country will support Bangladesh at the UN (regarding the issue)," acting Foreign Secretary Admiral (Retd) Khurshed Alam told the reporters after briefing the diplomats (except ASEAN countries) on the situation along the Bangladesh-Myanmar border at the state guesthouse Padma.

During the brief, Dhaka asked the diplomats to take actions so that the falling of mortar shells and bullets from Myanmar side does not happen anymore.
"We told them that Myanmar should not be allowed to destabilise the whole region and create obstacles for Rohingya repatriation," he said adding that Bangladesh will not fall prey to Myanmar's provocation.
The ongoing conflicts between Myanmar military and Arakan Army have been creating panic in the Bangladesh side of the border while a Rohingya man was killed and five others injured as mortar shells landed on the no-man's land on Friday last.

Besides, on the same day, a Bangladeshi youth name Anganthowai Tanchangya was grievously injured in a landmine explosion along the Bangladesh-Myanmar border in Naikhongchhari upazila of Bandarban district.
Alam said they urged the diplomats to take actions so that the Myanmar's internal conflicts do not create any pressure on the Bangladeshis.
The envoys took note of Bangladesh's concerns and ensured to duly convey those to their respective capitals.
Replying a query, Alam said Myanmar side always makes common claims that the mortar shells those were landed in Bangladesh launched by Myanmar's internal rebel groups-Arakan Army and ARSA.
On Monday, the acting foreign secretary made a same briefing to the Heads of Mission from the ASEAN countries in Dhaka to apprise them of the prevailing situation along Bangladesh and Myanmar border.
Earlier on Sunday, the government put the Border Guard Bangladesh (BGB) and the Bangladesh Coast Guard on high alerts with reinforcement if required on the Bangladesh-Myanmar border.
The same day, the foreign ministry summoned Myanmar Ambassador to Dhaka Aung Kyaw Moe for the forth times in a month to hand over Dhaka's protect note regarding the issue.