959 Ukrainian soldiers surrendered at Azovstal since Monday: Russia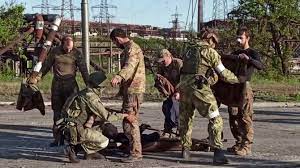 MOSCOW, May 18, 2022 (BSS/AFP) - Russia's defence ministry said Wednesday
that 959 Ukrainian soldiers had surrendered this week at the besieged
Azovstal steel plant in Ukraine's port city of Mariupol.
"Over the past 24 hours, 694 militants surrendered, including 29 wounded,"
the ministry said in its daily briefing on the conflict. "In total since May
16, 959 militants surrendered, including 80 wounded."