AL wants to present victory to PM in RpCC elections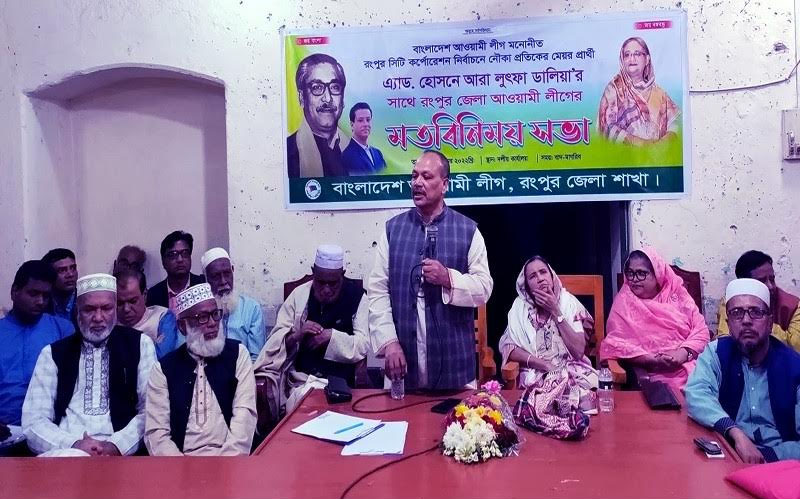 RANGPUR, Dec 1, 2022 (BSS) - Leaders of Rangpur district Awami League have vowed to work unitedly for the symbol 'Boat' in the Rangpur City Corporation elections-2022 to win the mayoral post and present victory to Prime Minister Sheikh Hasina.

They took the vow in a views-exchange meeting with Awami League nominated mayoral candidate for the RpCC polls, former lawmaker and the party's central executive committee member Hosne Ara Lutfa Dalia.

Rangpur district Awami League organised the meeting at its office in Betpotti area of the city tonight.

Senior Vice-president of district Awami League Advocate Elias Ahmed, its General Secretary Advocate Rezaul Karim Razu, Vice-presidents Chhayadat Hossain Bakul, Joynal Abedin, Rosy Rahman and Utpal Sarkar, Advisory Council Member Mofizar Rahman Raju, Joint General Secretary Motahar Hossain Mondal Mowla, Mazed Ali Babul, Organizing Secretary Wazedul Islam, Abu Talha Biplob and Jasem Bin Jummon, Publicity Secretary Latifa Shawkat, Cultural Affairs Secretary Atik Ul Alam Kallol, Labor Affairs Secretary Gawaherul Islam, Science and Technology Affairs Secretary Abu Sayeed Suman, Health and Population Affairs Secretary Ershadul Haque Ranju, Deputy Office Secretary Jinnat Hossain Lavlu, Deputy Publicity Secretary Mahmud Hasan, President of district Mohila Awami League Mortuza Mansur, its General Secretary Advocate Zakia Sultana Choite, district Awami Swechchasebak League President Sirajul Islam Pramanik, district Chhatra League President SM Sabbir Ahmed, its General Secretary Tanim Ahsan Chapal, district Jubo Mohila Awami League Convener Suraiya Akhter, its Joint Convener Raushan Ara Bobby, Krishak League leader Shahidul Islam Dukhu, among other leaders, addressed.

Advocate Rezaul Karim Razu said Prime Minister Sheikh Hasina has established Rangpur City Corporation alongside implementing unprecedented development works in every sector of Rangpur.

"The people of Rangpur want to give a victory in the RpCC elections to the Prime Minister out of gratitude," he said, and urged leaders, activists and workers of Awami League and its associate bodies to work together to make the symbol 'Boat' victorious.