Ethnic cultural fair held at Niamatpur in Naogaon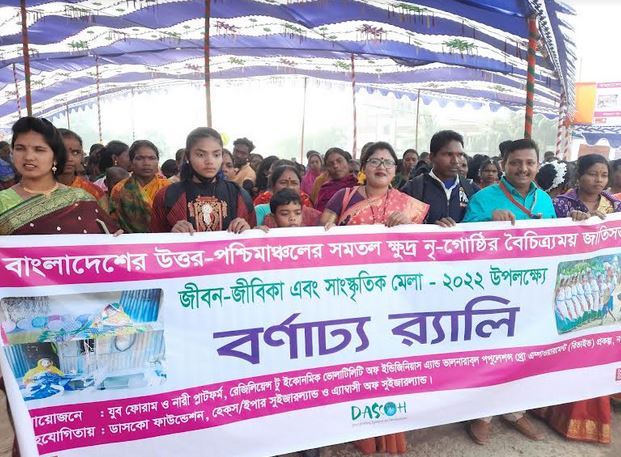 RAJSHAHI, Nov 23, 2022 (BSS)-A cultural and heritage fair for the ethnic minority people was held at Niamatpur Boys High School playground under Niamatpur Upazila of Naogaon district today amid massive enthusiasm and fanfare.
The daylong festival was organized aimed at achieving the cherished goal of their social inclusion into the mainstream society through strengthening their economic empowerment together with ensuring their legitimate rights.
On behalf of the 'Resilience to Economic Volatility of Indigenous and Vulnerable Populations through the Empowerment-REVIVE Project', DASCOH Foundation hosted the fair in association with Youth Forum and Women Platform.
Food Minister Sadhan Chandra Majumder, addressed the opening ceremony as chief guest through an online platform saying the present government under the dynamic and farsighted leadership of Prime Minister Sheikh Hasina has been working relentlessly for protecting the legitimate rights of the ethnic minority people in the Rajshahi region.
Superintendent of Police Rashidul Haque, Upazila Chairman Farid Ahmed, Upazila Nirbahi Officer Faruque Sufian, Country Director of HEKS/EPER Dora Chowdhury and Chief Executive Officer of DASCOH Foundation Akramul Haque also spoke on the occasion. President of Women Platform Sagarika Biswas presided over the ceremony.

The discussants attributed that this type of fair is very important in terms of showcasing the cultural heritages and traditions besides developing bonding, promoting interpersonal relationships, getting to know each other and building social and communal harmony.
The fair is also supportive towards promoting social harmony, local culture and traditional lives as it has created opportunities for social inclusion of ethnic people, culture, tradition, customs and livelihood.
The REVIVE project is being implemented in six unions of Nachole and Gomostapur upazilas in Chapainawabganj and nine unions in Manda, Dhamuirhat and Niamatpur upazilas of Naogaon districts.
DASCOH Foundation has been implementing the project in cooperation with HEKS/EPER supported by Switzerland since July, 2021 for contributing to the holistic development of disadvantaged communities, particularly the ethnic minorities.
Around 4,600 marginalized families, most of them are ethnic minorities, have started improving their living and livelihood conditions through various need-based income generating activities with intervention of the project.