Eliminating child marriage stressed for attaining SDGs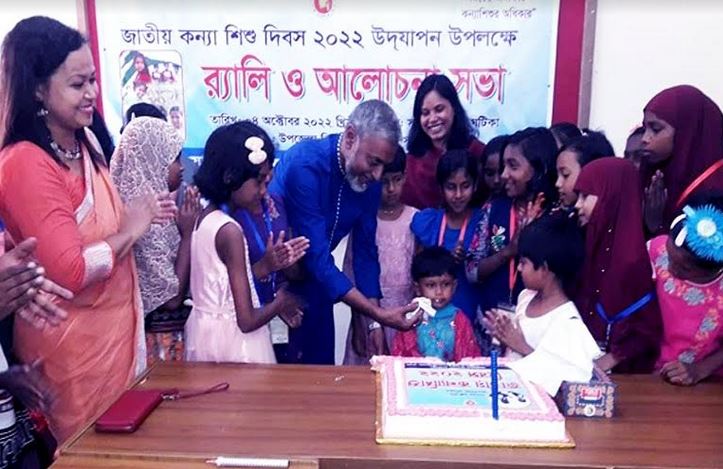 RANGPUR, Oct 4, 2022 (BSS) - Launching an inclusive social movement has become a need of the time to create public awareness for eliminating child marriage to attain the sustainable development goals (SDGs).

Officials and public representatives made the observation today at the discussion arranged in observance of the National Girl Child Day -2022 at the upazila parishad auditorium in Pirganj upazila town of the district.

With assistance of the upazila administration, upazila women affairs office organized the event participated by officials, public representatives, marriage registrars, religious leaders, teachers, adolescents, women rights' activists and journalists.

With Pirganj Upazila Nirbahi Officer Biroda Rani Roy in the chair, General Secretary of Pirganj Upazila Awami League and Mayor of Pirganj municipality Abu Saleh Mohammad Tazimul Islam Shamim attended the event as the chief guest.

Upazila Women Affairs Officer Shahnaz Farzana Afroz delivered a welcome address narrating the massive steps taken by the government to ensure rights of girl child, ensure their rights and flourish their talents in a congenial atmosphere.

Upazila Agriculture Officer Agriculturist Md. Sadekuzzaman Sarker, Disaster Management and Relief Officer Md. Mizanur Rahman, Social Service Officer Alifur Rahman addressed as special guests.

The speakers said early marriage of premature girls leads them towards catastrophic lives destroying their mental and physical health and future along with causing neonatal and maternal deaths mostly in backward rural areas.

They stressed on ensuring education, health care, equal rights, safety and social security for every girl child alongside stopping child marriage and violence against them to bring up them as worthy citizens to attain sustainable national development.

The chief guest called for ensuring equal rights of every girl child and preventing early marriage through checking smart national identity cards and birth registration documents before registering a marriage on the way to achieve the SDGs by 2030.