National Mourning Day observed in C'nawabganj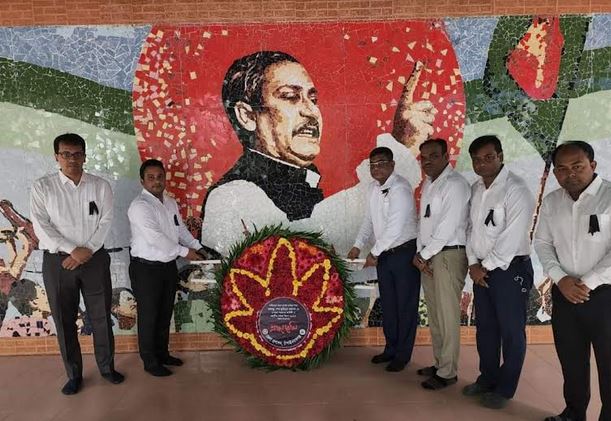 CHAPAINAWABGANJ, Aug 15, 2022 (BSS) - The National Mourning Day was observed paying due tribute to the Father of the Nation Bangabandhu Sheikh Mujibur Rahman in Chapainawabganj today.

The day's programmes started with the hoisting of the national flag half-mast in government and non-government buildings and wearing black badges.

Chapainawabganj district administration, Chapainawabganj police, Awami League and its front organisations, the district command of Muktijoddha Sangsad, different social and cultural organisations, educational institutions and government offices offered wreaths at the portrait of the Father of the Nation Bangabandhu Sheikh Mujibur Rahman at Bangabandhu square in the town in the morning.

Chapainawabganj district administration arranged recitation of the complete Quran (Quran Khatam) more than 200 times at Chapainawabganj Circuit House from August 9 till August 15 praying for the salvation of all the martyrs of August 15. Department of Women Affairs arranged doa mahfil and video documentary show at its office at noon.

Special prayers were held in all the prayer houses of different religions.

Besides, Chapainawabganj district administration held discussion meeting and prize distribution programme at Bangabandhu Mancha in front of the DC office in the afternoon and a show of shruti natak and singing of mourning day related songs without instruments in the evening.

AL arranged doa mahfil and discussion meeting at its district office and also brought out a procession in the town.

Exim Bank Agricultural University Bangladesh, Balugram Adarsha College and other educational institutions arranged discussion meetings, recitation of poems and doa mahfil.