RCC intends to promote inclusive sanitation services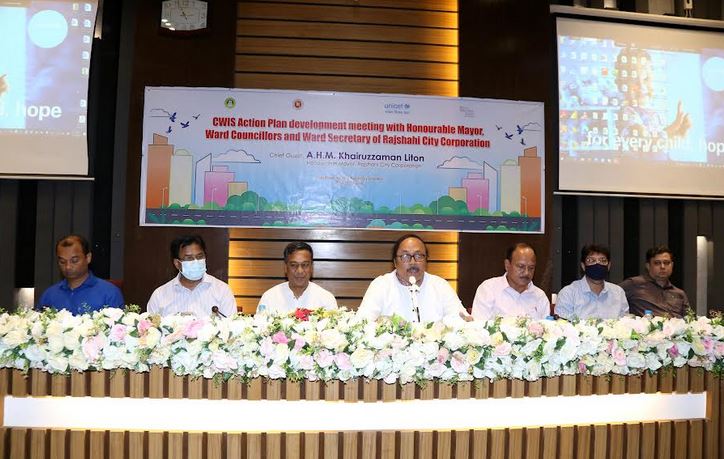 RAJSHAHI, July 6, 2022 (BSS) - Rajshahi City Corporation (RCC) is intended to promote citywide inclusive sanitation services in the city to ensure sound health of its people as a whole.
Utmost emphasis is being given on capacity building besides boosting local level mass-awareness for successful implementation of a safe sanitation system.
City Mayor AHM Khairuzzman Liton revealed this while addressing a daylong workshop titled "CWASH Action Plan Development Meeting with Mayor, Ward Councilors and Ward Secretaries of RCC" held at the city bhaban conference hall Tuesday.
The meeting discussed and devised ways and means on how to ensure inclusive and integrated sanitation and safe sewage management across the Rajshahi city.
UNICEF and RCC jointly organized the meeting with the main focus of implementing improved urban sanitation systems through effective initiative with special attention to the needs of the poor, the marginalized and women and girls.
Chairman of Rajshahi Development Authority Anwar Hossain, Managing Director of Rajshahi WASA Zakir Hossain and UNICEF Chief for Rangpur and Rajshahi Divisions Najibullah Hameem spoke as special guests.
Mayor Liton stressed the need for formulating and implementing comprehensive programmes for developing and ensuring inclusive sanitation services in the city.
He said a step has been taken in organizing public hearings to seek city dwellers opinions on Citywide Inclusive Sanitation Service by engaging elected representatives, city dwellers, vulnerable groups and relevant stakeholders.
The city corporation will facilitate city dwellers participation to select a range of technological options for fecal sludge management and citywide inclusive sanitation in highly congested under-served areas and selected residential areas of the city.

Liton said they have already conducted a sanitation needs assessment identifying specific areas of regulatory, institutional arrangements and coordination mechanisms to improve city sanitation services, behavioral issues, barriers, motivational factors, medium of message dissemination and campaign plans around inclusive sanitation services.

Professor Mujibur Rahman from BUET presented a keynote paper saying fecal sludge management based on-site sanitation service not only prevents environment pollution, but also establishes a cost-effective sanitation service in comparison to expensive sewer-based sanitation systems.

He also called for ensuring safely managed on-site sanitation and fecal sludge management covering containment stage up to collecting, emptying and transporting fecal sludge followed by fecal treatment, reuse and disposal.