Incident of baton charge in Barguna couldn't happen like this: Home Minister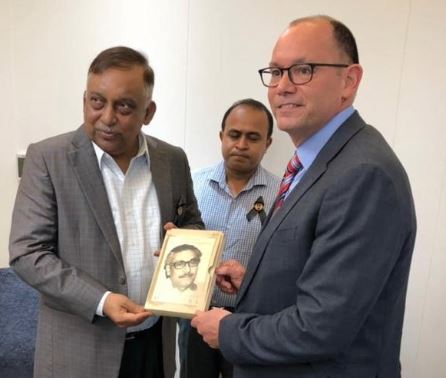 DHAKA, Aug 16, 2022 (BSS) - Home Minister Asaduzzaman Khan Kamal said that the incident of baton charge took place in Barguna yesterday is unexpected.
"I have seen the incident, where police charged baton on Chhatra League leaders and workers during the National Mourning Day programme," he told journalists after a meeting with US Ambassador in Dhaka Peter Haas at his office today.
In response to different questions from the reporters, the minister said, "The Barguna incident that we have seen is a little exaggerated. I have told the Inspector General of Police (IGP) that why such type of incident took place. He has been taking measures."
Replying to another question regarding the incident, Kamal said, "A committee has been formed to investigate into the matter. Let the report come. I think this thing should not have been exaggerated. After the investigation, it will be known who did the excesses."
Replying to another question of whether a policeman can speak to a public representative like this, the minister said, "I have seen many things, and I have not seen many things. One sided video may be coming to Facebook. It may have other aspects as well. From what I've seen, it looks like it might not. I have also said that the incident should not have happened like this."
Earlier, on the occasion of the 47th martyrdom anniversary of the Father of the Nation Bangabandhu Sheikh Mujibur Rahman and the National Mourning Day, police charged baton on Chhatra League leaders and workers around 12 noon at the main gate of Barguna Shilpakala Academy yesterday.
The leaders and activists of the two groups of Chhatra League clashed. The police arrived at the spot and dispersed them with batons.