DMP takes foolproof security measures for National Mourning Day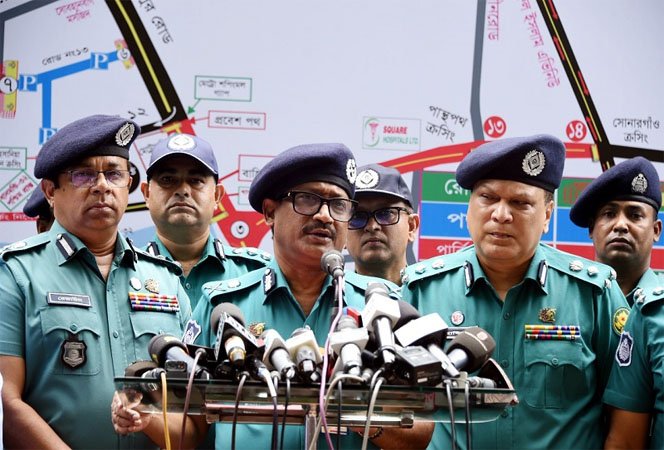 DHAKA, Aug 14, 2022 (BSS) – Dhaka Metropolitan Police (DMP) Commissioner Md Shafiqul Islam today said they have taken coordinated security measures for smooth and peaceful observation of the National Mourning Day tomorrow.
"We've taken coordinated and foolproof security measures for peaceful observance of the day, marking the 47th martyrdom anniversary of Father of the Nation Bangabandhu Sheikh Mujibur Rahman," he said while talking to the journalists on the security arrangements in the capital ahead of the National Mourning Day.
"Security plan has been taken for peaceful observance of each and every programme marking the day. Particularly, Dhanmondi-32 and its adjoining areas have been brought under unprecedented security surveillance with setting up of control rooms, archways and closed circuit cameras (CCTVs) as the President, the Prime Minister and other VIPS are expected to pay their respect on the portrait of Bangabandhu here," he said.
The DMP chief said everyone coming to pay homage at the Bangabandhu's portrait will have to pass through police check posts and archway gates to ensure their safety and security.
In this regard, he urged the respected citizens to cooperate with the police on duty. The security measures have been strengthened at places where public gatherings are likely to happen, including Bangabandhu Memorial Museum and Banani Graveyard, Shafiqul said.
Adequate number of uniform police will be deployed along with SWAT, bomb disposal units and plain clothes police. Dog squads of the Rapid Action Battalion (RAB) and police will sweep Bangabandhu Memorial Museum and Banani Graveyard to make the security foolproof, he said. Dhanmondi Lake will have the patrol of the River Police for ensuring security in the lake.
Besides, senior officers will be stationed round the clock at the temporary control rooms to deal with any situation on the ground, the commissioner added.
The DMP Commissioner requested city dwellers not to carry trolley bag, backpack, Tiffin-carrier, flax, knife, explosive substances, gaslight and firearms during the National Mourning Day programmes.
He requested all those who will come to pay their respects to follow health guidelines while entering into the Dhanmondi Road No 32 for paying homage to Father of the Nation Bangabandhu Sheikh Mujibur Rahman tomorrow.
Replying to a question, the DMP commissioner said that no specific information about militant's threats from intelligence agencies such as SB, ATU, NSI and DGFI.
He said the DMP's Counter Terrorism and Transnational Crime (CTTC) unit will continue monitor activities of militants in the cyber world through cyber patrolling.
Shafiqul said August is a month of curse for the Bengali Nation as conspirators brutally killed Bangabandhu, Bangamata and most of his family members on August 15, 1975.
He said in coordination with other law enforcement agencies, a security tire was ensured across the capital to observe the National Mourning Day with due dignity and peacefully across the capital as many political organizations are set to hold doa mahfils to mark the day.
Additional Commissioners of DMP Mir Rezaul Alam, AKM Hafeez Akter, CTTC Chief Md Asaduzzaman, Syed Nurul Islam and joint commissioners and deputy commissioners were present.