Battle that paved ways for final victory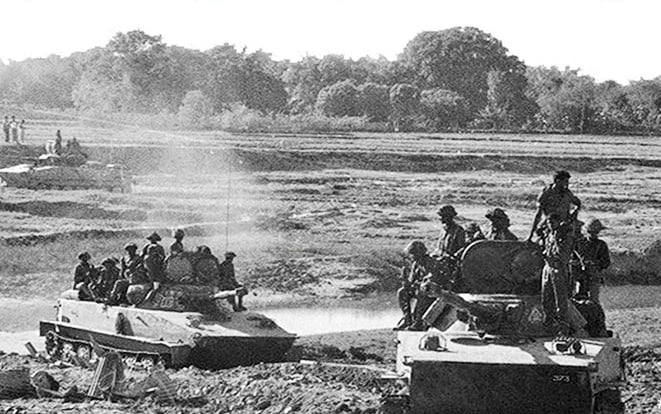 By Anisur Rahman


DHAKA, Dec 14, 2022 (BSS) - Dhaka emerged as the free capital of independent Bangladesh 13 days after the Indo-Pak war broke out on December 3, while the freedom fighters eroded the invading Pakistani troops' morale on every passing day in the previous nine months.

Military historians and strategists now acknowledge a little known but fierce battle to be the prelude to the eventual victory when both sides used their tanks and airpower on November 20-22, 1971 even before the war was declared. History recorded it as the "Battle of Garibpur".

The battle pitted India's Russian-made PT-76 tanks against US-made M-24 Chaffee of Pakistan; and Indian air force's (IAF) Gnats fighter jets against Pakistani air forces (PAF) F-86 Sabres, while the later side suffered miserably, both in terms of machines and men.

Several military experts call the encounter as the greatest tank battle of the 1971 war, fought in a rugged finger-shaped village in a marshy area of Chuadanga while foggy weather obstructed the visibility of both sides.

"Pakistani defence became off balance after this battle," 1971 veteran and researcher, retired Bangladeshi major general Imamuz Zaman Bir Bikram told BSS, adding that both the sides fought with best of their ability and left behind significant war lessons.

Located 6 kms inside Bangladesh along India's Boyra salient, Garibpur lies astride a highway from India to Jashore via Chaugacha and was considered an important crossroad for both the countries.

Pakistani literatures suggest their high command thought the marshy area was "untankable" and thus taken aback by discovering Indian tanks presence though the Mukti Bahini guerillas continued to harass them there from the beginning under hit and run tactics.

"The enemy force (allied) crossed the border near boyra (Jessore sector) on 13 November. It stayed there undetected for seven days, during which the Indians built up the force to two complete battalions . . . we learnt about their presence as late as 19 November," Pakistani major Siddiq Salik wrote in his Witness to Surrender.

"The (allied) attack was launched at 6 am on 21 November. It progressed well initially (for Pakistanis) when the (Pakistani) attacking force advanced towards the enemy position in a grove of trees, enemy tanks opened up from hidden positions. This was a major surprise for us because we had always regarded it as an 'untankable' area," Salik wrote.

He wrote the Indian artillery from across the border joined the battle prompting Pakistani troops to seek PAF air cover and three Sabre jets soon appeared overhead to be met by IAF MIGs but "we lost two aircraft and all the tanks".

"The attack was (then) called off," Salik wrote.

The 1971 war documents, however, suggest the allied forces had partly lost the element of surprise ahead of the battle as a Pakistani reconnaissance group by chance detected a Mukti Bahini patrol team, resulting in a skirmish.

But some military analysts think Pakistani forces might have little idea of Indian tank presence at that moment though their war documents suggest Pakistan's 107 Brigade formed two task forces to neutralise the 'intruders' -- Indian troops and the Mukti Bahini following their detection.

Retired brigadier Balram Mehta, an Indian armored core captain at that time, was tasked to lead the C Squadron of India's 45 Cavalry after its commander Major D S Narang was killed in enemy fire at the beginning of the battle, joined as well by India's 14 PUNJAB infantry regiment.

He called the battle "iconic" while talking to BSS recently, adding that against the backdrop of a well assumed imminent full-scale military warfare, the Indian forces needed some assault launching pads against Pakistani troops.

"Garibpur was among the key launch pads because of its proximity to Jessore (now Jashore) in erstwhile East Pakistan," Mehta said in an interview, referring to the area's strategic importance.


Imamuz Zaman supplemented Mehta saying the allied forces in a preliminary operation plan in mid November decided to use as launching pad the area around Chaugacha in Jashore for subsequent operations in enemy occupied western region.

Bangladesh's war time army records suggest the Mukti Bahini guerillas found the Garibpur area to be largely uncared by Pakistanis for a major battle, a piece of intelligence, that helped the plan formulation.

Residents in the neighbourhood recalled Mukti Bahini soldier Abdus Sattar escorted the Indian tanks to the site escaping enemy eyes while fellow guerillas with villagers' support paved ways for the tanks laying debt trees on muddy paths.

The Indian side destroyed 14 Pakistani Chaffee tanks on November 21 at the expense of only two of their own while IAF Gnats fighter jets shot down two Pakistani F-86 Sabres and badly damaged another in the first aerial combat with PAF in the build-up to 1971 war.

The success and significance of the battle prompted Prime Minister Indira Gandhi to mention it in parliament while Salik wrote top Pakistani commander general AAK Niazi considered that "all out war had started for him" with this encounter.

"The attack on Garibpur was the strongest that Pakistan launched in the war. . . . (but) Eventually as a result of this battle, Pakistan had been completely unbalanced," Brigadier Hayat Khan, who led the Pakistan side in the battle, said later.

The Indian troops were debarred from advancing further inside East Pakistan territory as they were yet to enter into a declared war but Mehta said he believed if it was allowed their troops could have liberated Bangladesh much ahead of December 16.

But immediately after the 1971 war, he had promised his tank crews that one day he would come up with a book describing their valour and sacrifice in the battle and eventually he kept his promise authoring "The Burning Chaffees".

Twenty eight allied troops including affiliated Mukti Bahini soldiers lost their lives while 42 were wounded in the battle as the Pakistani casualty was estimated to be 300 Pakistani soldiers, including three officers. Six enemy Prisoners of War were apprehended.

The international boundary along the region remained in allied hands until the final victory.