Birshreshtha Jahangir's martyrdom anniversary, Chapainawabganj free day tomorrow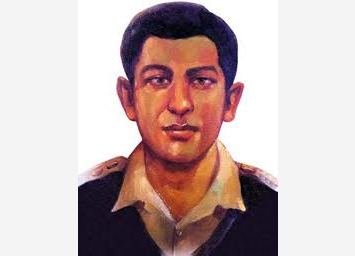 CHAPAINAWABGANJ, Dec 13, 2022 (BSS) - The 51st martyrdom anniversary of the great Liberation War hero Birshreshtha Shaheed Captain Mohiuddin Jahangir and Chapainawabganj free day is tomorrow is.
The people of Chapainawabganj remember this day every year with mixed feelings of solemnity, joy and sorrow because Birshreshtha Jahangir freed the then Nawabganj subdivision from the clutches of the Pakistani occupation forces and their collaborators after a fierce fighting and sacrificing his life on this day in 1971.
He was born on 8 March 1949 at Rahimganj village under Babuganj upazila in Barishal district. He completed his primary education from Muladi. He achieved talent pool scholarship in primary.
He passed SSC examination from Muladi Mahbudjan High School in 1964. He completed his HSC from the Barishal BM College. In 1967, he got enrolled at the department of Statistics in the University of Dhaka.
On October 5, 1967, he joined the armed forces as a cadet at the Pakistan Military Academy. After successful completion of his training, Jahangir joined as a commissioned officer at the Engineering Core. Later he got posted to 173 Engineer's Battalion in Multan. After working with the Battalion for six months, he was shifted to Military College of Engineering in Risalpur.
Following finishing the 13 month long training, he took the bomb disposal training.
In 1971, Mohiuddin Jahangir was working at the construction field at Karakoram. On 10 June, he took a few days leave and went back to Risalpur. One day later, he started journey towards the Sialkot border to reach India. He managed to cross the border safely and joined the Mukti Bahini. On 3 July, he became a captain of the sector 7 with the responsibility to fight at Chapainawabganj.
He set his camp at a place called Baroghoria at the west of Chapainawabganj town on December 10, 1971.
On 14th December, Mohiuddin Jahangir along with his co-fighters crossed the Mohananda river near Akandabaria and camped at Rehaichar near Chapainawabganj town before dawn.
He intended to destroy one of the light machine gun bunkers of the Pakistan army and crawled towards it.
He managed to come closer to the bunker and charged grenade to it.
But he was fired from another bunker and as a result, he was immediately shot dead. The valiant son of the country took leave from this world but the occupation forces and their collaborators could not stand.
Later, a group of freedom fighters recovered the dead body from Rehaichar, now the southern part of Birshreshtha Shahid Captain Mohiuddin Jahangir Bridge on 15th morning and buried him at the Choto Sona Mosque premises under Shibganj thana.
A bridge over Mohananda river and a number of institutions were named after him in Chapainawabganj in recognition to his bravery.
Different programmes including hoisting national flag, placing wreaths at the grave of Birshreshtha Shaheed Captain Mohiuddin Jahangir on Sonamasjid premises and at his monument at Rehaichar near Mohananda Bridge, doa, mahfil and discussion meeting will be held to mark the day.