Sammilita Sangskritik Jote launches 'victory festival' tomorrow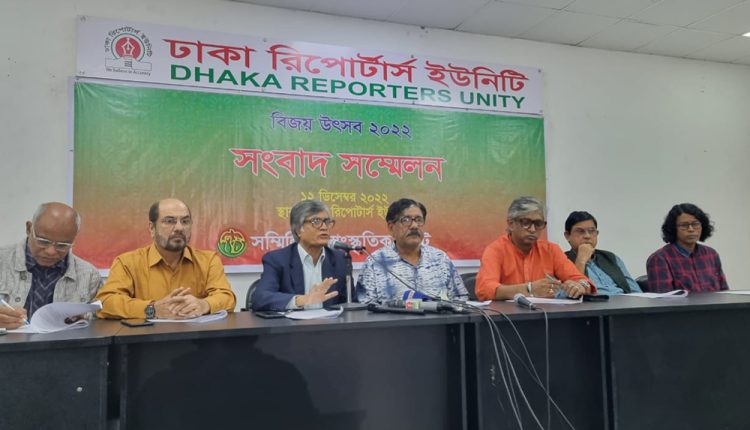 DHAKA, Dec 12, 2022 (BSS) - Sammilita Sangskritik Jote will launch a 'victory festival' at the Central Shaheed Minar in the city tomorrow.

Noted actress Ferdousi Mazumder will inaugurate the festival at the Central Shaheed Minar at 4 pm with Golam Quddus in the chair.

Sammilita Sangskritik Jote President Golam Quddus disclosed this at a press conference held at the Nasrul Hamid Auditorium in Dhaka Reporters' Unity (DRU) here today.

Noted cultural personalities will take part in the inaugural function while the first-day programmes will include placing wreaths at the altar of the Shaheed Minar, singing the national anthem and Liberation War songs and recitation of poems on victory as well as the performance of dances.

At the programme, the Jote announced observing a year-long programme to tackle the anti-liberation ill efforts of BNP-Jamaat with a vow to create a cultural awakening across the country.

According to the programme schedule, the 'victory festival' programmes will be organised at Central Shaheed Minar, Dhanmondi Rabindra Sarobar, Rayer Bazar Intellectuals Memorial, Mukul Fauj ground at Mirpur-6, Dania Masud Manch, Victoria Park, Motijheel T&T Colony Ground, Uttara Bangabandhu Muktamanch and Purbachal Joy Bangla Square.

The programme will start at Bijay Mancha every day at 4 pm. The event will include solo and group music, drama, dance, solo and group recitations, performances by children's organizations and memorial processions.

Apart from these programmes, Bangladesh Abritti Somonnoy Parishad in association with the Sammilita Sangskritik Jote will organise victory day programmes at Bangladesh Deputy High Commission in Kolkata on December 15 and 16, at Benapole and Jessore on December 17, and at Justice Shahabuddin Park in Gulshan in the city on December 23.
About 300 artists from more than one and a half hundred organizations will participate in these programmes.

Senior Vice President of the Jote Pro Vice Chancellor of Dhaka University Muhammad Samad, Vice President Jhuna Chowdhury, General Secretary Ahkam Ullah, Joint General Secretary Ahmed Gias and Organizing Secretary Azharul Haque Azad were present at the press conference, among others.