Khulna radio station remains as 1971 landmark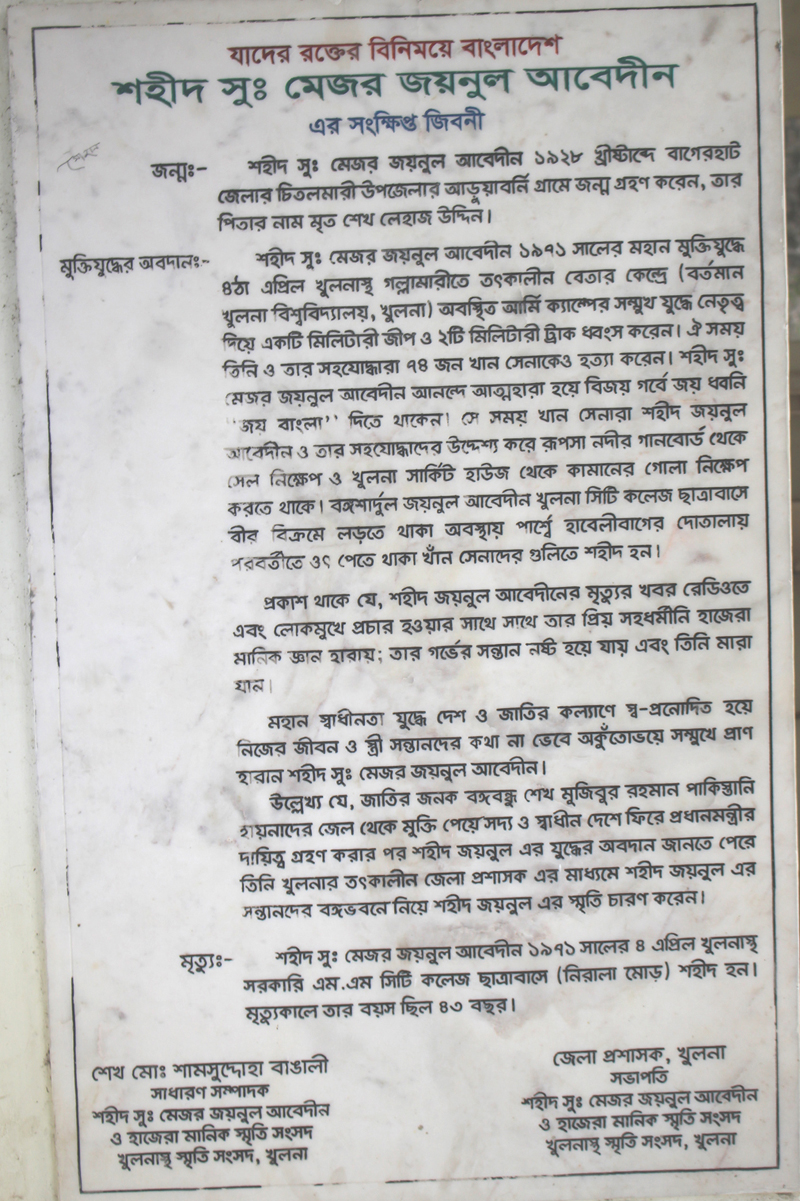 KHULNA, Dec 3, 2022 (BSS) - Khulna was one of the last major cities to be captured by Pakistani troops during the Liberation War thanks to freedom fighters' fierce resistance as the radio station here remained as a 1971 landmark.
A fierce battle took place at Khulna Radio Station (now Bangladesh Betar Khulna Center) on April 3 in 1971 when several freedom fighters including M Jainul Abedin embraced martyrdom.
Abedin, the then Subeder Major of the erstwhile East Pakistan Rifles (now Border Guard Bangladesh) joined the liberation war at the very beginning and embraced martyrdom in Khulna radio station battle on the day.
Commander of Mujib Bahini (BLF) in greater Khulna during the Liberation War Sk Quamruzzaman Tuku, 78, in an exclusive interview with BSS on Thursday, has given a depiction of battle against Pakistan occupation army at the Radio Station.
"After the crackdown in Dhaka by the Pakistan army, we called upon students, workers, professionals and mass people here to barricade different roads including Khulna-Dhaka highway and the Railway lines with logs, bricks and stones to stop the enemy's advancement," he said.
Pakistani army in 216 convoys marched towards Khulna on March 29, 1971, set up camps at several places and occupied the then Khulna Radio Station centre in Gallyamari area, two kilometers from the Khulna city.
"We made a plan to attack the army position in a meeting at Naihati School under Rupsha Thana in presence of Major M A Zalil, commander of sector-9, Subedar Major M Jainul Abedin and other Liberation War organizers in the region on March 31, 1971," he also said.
It was the midnight on April 3 while as many as 250 Freedom Fighters (FF) led by Subedar Major Jainul Abedin attacked the Pakistan force at Radio Station from three directions except the north.
An FF group led by me also fired at the Pakistani army position. Student leaders Zahidur Rahman Zahid, Mossarraf Hossain, Habib and Moslem, among others, were with us, he added.
Abedin was trying hard to block several army convoys advancing towards the Radio Station, Tuku said.
He also said Abedin fought with utmost courage near City College dormitory area, killing 74 Pakistani soldiers and destroying their convoys until embracing martyrdom while the sun was peeping out of the horizon spreading its glow in the sky.
With moist eyes, Tuku said two co-fighter Habib and Moslem of my team also embraced martyrdom at that night.
The freedom fighters continued battle for more two hours and one stage they left the scene.
The brave son of the soil Abedin was buried where he was killed while Habib and Moslem were buried at his family graveyard in Bagerhat, he continued.
Valiant Freedom Fighter and writer S M Babar Ali in his book 'Swadhinatar Durjoy Avijan", described the battle at Khulna Radio Station as a glorious chapter in the history of the great Liberation War.
Talking to BSS, Ali said on information, pregnant wife of Abedin became shocked and lost her sense, damaging her fetus and later died.
After some years of Abedin's martyrdom, the Subedar Major Jainul Abedin Smrity Parishad led by the then deputy commissioner of Khulna unveiled a memorial plaque with short brief about the war at the place where Abedin was killed, Ali added.