BNP's movement means arson terrorism: Quader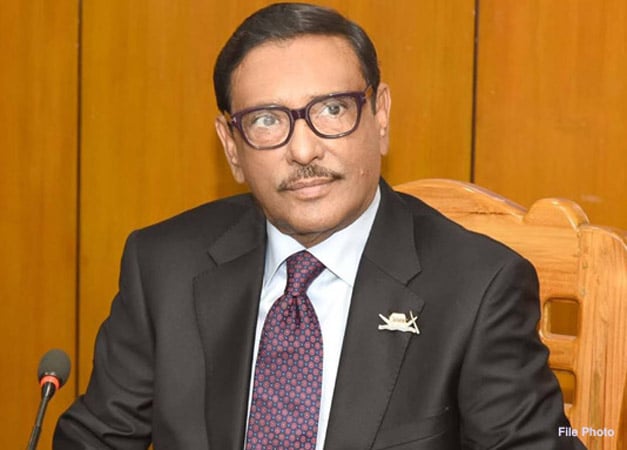 NOAKHALI, Dec 2, 2022 (BSS) - Awami League General Secretary Obaidul Quader today said the movement of BNP means arson terrorism as the party is the patron of militancy and the trusted resort of communalism.
"BNP is giving signal that it will add the elements of violence to its movement. People have panicked now. We are in power and we don't want any unrest," he said while virtually speaking at the triennial conference of Companiganj Upazila unit of Awami League at Basurhat AHC Government High School ground in Companiganj here.
Speaking as the chief quest, Quader said BNP acting chairman Tarique Rahman stated that Prime Minister Sheikh Hasina and her ministers would run away.
"But, he (Tarique) has been on the run for 14 years. Why doesn't he talk about it?" he said.
Referring to Tarique Rahman's statement, a fugitive since 2008, that Hasina would flee away the country," he said that Tarique even didn't mention the name of the premier with honour.
Quader, also the road transport and bridges minister, said the BNP wanted to kill Sheikh Hasina on August 21 in 2004 while Ziaur Rahman had killed Father of the Nation Bangabandhu Sheikh Mujibur Rahman.
Mufti Hannan claimed that the grenade attack was carried out as per the directives of Hawa Bhaban, he said.
Earlier, Noakhali Zilla AL convener AHM Khairul Anam Selim inaugurated the conference by hoisting the national flag and party flag around 3:30 pm.
Presided over by Companiganj Upazila AL president and freedom fighter Khizir Hayat Khan, the conference was addressed, among others, by AL organising secretaries Abu Sayeed Al Mahmud Swapan and SM Kamal Hossain, AL agriculture and cooperative affairs secretary Faridunnahar Laili, relief and social welfare affairs secretary Sujit Roy Nandi, Noakhali Zilla AL joint conveners Shihab Uddin Shahin and Shahidullah Khan Sohel and Companiganj upazila parishad chairman Mohammad Sahab Uddin.
In the second session of the conference, Basurhat municipality mayor Abdul Quader Mirza was selected as the president of Companiganj upazila unit AL and former upazila chairman Mizanur Rahman Badal as its general secretary.