RAB arrests 24 robbers, two fugitive convicts from capital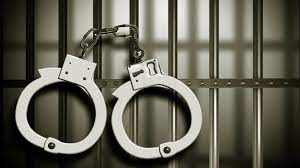 DHAKA, Oct 5, 2022 (BSS) - Rapid Action Battalion (RAB) arrested 26, including two fugitive accused and a snatchers' gang leader from different areas of the capital on Tuesday.
Lieutenant Colonel Arif Mohiuddin, Commanding Officer (Captain) of RAB-3 told BSS that on a tip off, a team of RAB-3 arrested fugitive accused Shukkur Ali, 50, and his companion Didar Mia, 40 from Fatulla thana area of Narayanganj.
Both were sentenced to life and are accused in multiple robbery and murder cases under Sunamganj's Shalla thana.
RAB-3 officials said that process is underway to hand them over to Shalla Thana Police.
In separate operations in city's Shajahanpur, Motijheel and Paltan Model Thana yesterday, 24 including a snatchers' gang leader were held by RAB-3 members.
The miscreants were planning to commit an organized robbery during the black-out in the city on Tuesday, said RAB-3 Assistant Police Super (Media), Farzana Haque, in a press briefing at the RAB head office in city's Karwan Bazar.
Mobile phone sets, sim cards, switch gears, sharp weapons, and Taka 4,595 in cash were recovered from their possessions during the drive.
The arrestees will be handed over to the police tomorrow. Cases were lodged against them with respective police stations, RAB-3 sources said.