'Bangabandhu dreams of building non-communal Bangladesh'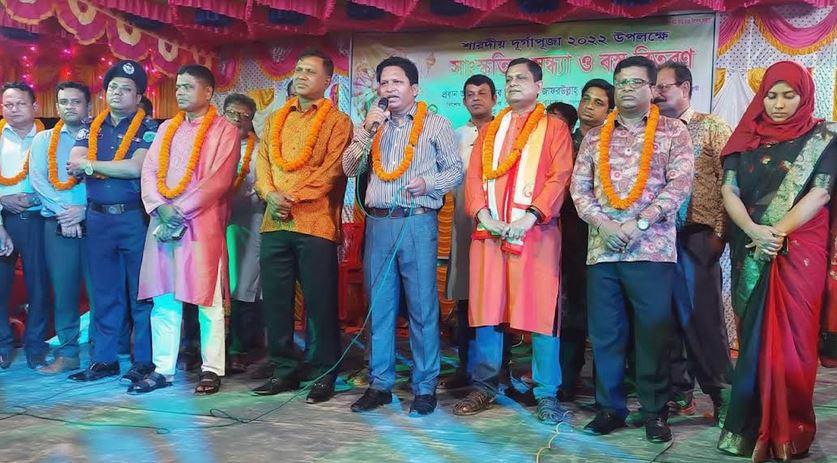 RAJSHAHI, Oct 4, 2022 (BSS) - Father of the Nation Bangabandhu Sheikh Mujibur Rahman had dreamt of building a non-communal Bangladesh and his daughter Prime Minister Sheikh Hasina has been materializing his dream at present.
As a whole, the present government under the prudent and farsighted leadership of the Prime Minister is very much sincere in maintaining social and communal harmony for overall development of the nation.

High administrative and police officials came up with the observation while addressing a cultural evening to mark the Saradiya Durgotsob at Narayanpur Puja Mandap in Bagha upazila of the district yesterday night.

Commissioner of Rajshahi division GSM Zafarullah and Deputy Inspector General of Police Abdul Baten addressed the ceremony as chief and special guests respectively with local unit president of Bangladesh Puja Udjapan Parishad Sujit Kumar Pandey in the chair.

Joint Secretary of the Ministry of Liberation War Affairs Rathindranath Dutta, Deputy Commissioner of Rajshahi Abdul Jalil, Superintendent of Police Masud Hossain and Upazila Niirbahi Officer Sharmin Akter also spoke on the occasion.
Commissioner Zafarullah said the five-day Saradia Durga Puja, largest religious festival of the Hindu community, is being celebrated cordially and peacefully everywhere of the Rajshahi division like other parts of the country at present.
Since immemorial time, Bangladesh has been a country of communal harmony as people of all faiths are now living in the country amid peace and tranquility.

Time has come to become united with non-communal spirit to thwart any sorts of rumor and falsehood for sake of the country's development.

At present, the country is going forward after facing multifarious challenges and obstacles due to the prudent and visionary leadership of Prime Minister Sheikh Hasina.
The chief guest also distributed sarees and lugnies among the distressed and underprivileged devotees marking the durga puja.