National Girl Child Day tomorrow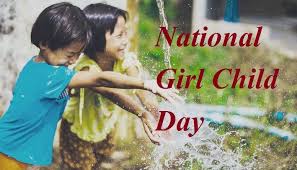 DHAKA, Oct 3, 2022 (BSS) - The National Girl Child Day-2022 will be celebrated across the country tomorrow with a view to developing girl children as worthy citizens for building a prosperous Bangladesh.
This year's theme of the day is 'Somoyer Ongikar: Konyashishur Odhikar' (Rights of girl children: a timely pledge).
President M Abdul Hamid and Prime Minister Sheikh Hasina in separate messages greeted the girl children on the occasion of the National Girl Child Day-2022 urging all including the private organizations to work together with the government for overall protection and development of girl children of the country.
In his message, the president said rights, education, nutrition and security of girl children will have to be ensured for building a prosperous Bangladesh. Girl children will have to be protected from dowry, child marriage, eve-teasing and all sorts of social and family disparities and repressions, he added.

The government has been implementing different programmes for the welfare of girl children, he said, adding that girl children are getting scope to study up to higher secondary free of tuition fees. As a result, literacy rate of girl children is on rise and the rate of child marriage is falling, he added.
Girl children are showing excellent performances in sports and cultural activities, the president said, adding that recently Bangladesh women football team created new history as they became champions in SAFF Women's Football Tournament.

Prime Minister Sheikh Hasina, in her message, said that as a women and girls friendly government, it has been working relentlessly for empowering women and girls as part of the implementation of SDGs.

For the welfare of girl children, the government has been implementing various programmes, including free education, stipend, free books and appointment of more women teachers in educational institutes, she added.
"Our government has formulated National Child Policy-2011, National Woman Development Policy-2011," the prime minister said, adding that capital punishment has been incorporated in the Women and Children Repression Prevention (Amendment) Act 2000 and child marriage and dowry prevention laws have enacted in the country.
As a result, child marriage has declined significantly, said the premier.
She said a major portion of the country's population is girl child and it thinks that if their proper development with knowledge, rights and education is ensured, they would be able to build themselves as worthy citizens and contribute to materializing the dream of Father of the Nation Bangabandhu Sheikh Mujibur Rahman in building "Sonar Bangla."
Both the president and the prime minister wished overall success of all programs taken on the occasion of the National Girl Child Day-2022.