"No landless, homeless in Rajshahi division by 2023"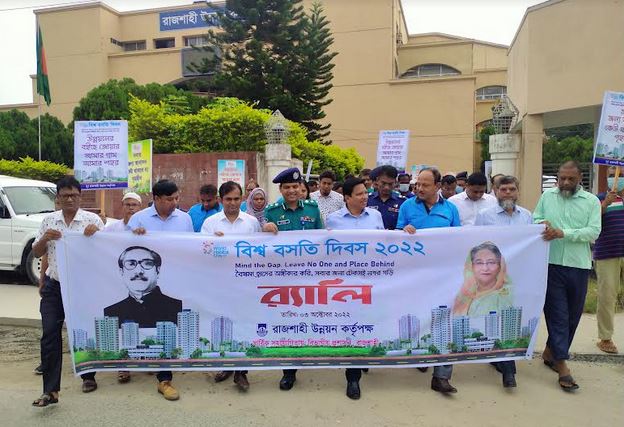 RAJSHAHI, Oct 3, 2022 (BSS)- Already, ten upazilas have been declared as freed from landlessness and homeless in Rajshahi division and there will be no landless and homeless in all eight districts of the division by 2023.

"We will declare two districts and 33 more upazilas as freed from landlessness and homeless within this year-end," said GSM Zafarullah, Commissioner of Rajshahi division.

He came up with the observation while addressing a post-rally discussion held at the conference hall of Rajshahi Development Authority (RDA) to mark the World Habitat Day- 2022 today as chief guest.

RDA and Commissioner Office of Rajshahi Division jointly organized the meeting. The theme of the day this year is "Mind the Gap. Leave No One and Place Behind'.
With RDA Chairman Anwar Hossain in the chair, the meeting was addressed, among others, by Additional Commissioner of Rajshahi Metropolitan Police Faruque Hossain, Superintendent of Police Murshed Alam, Additional Deputy Commissioner Shariful Haque and RDA Authorized Officer Abul Kalam Azad.
Commissioner Zafarullah said Prime Minister Sheikh Hasina has shown courage in freeing the country from the homeless and landless in the country for the first time in the word.

He also stressed the importance of ensuring safe habitat for all and viewed that planned urbanization can be the best ways of safe habitation.

Besides, substantial and sustainable reduction of carbon emission has become crucial to ensure safe habitation.
Mizbah Uddin, Additional Chief Engineer of Department of Public Works, highlighted the significance of the day during his keynote presentation.
He said cities and local governments play a front-line role in responding to crises and emergencies, as well as in planning for an inclusive, resilient and green future.
To prepare urban areas for future catastrophes, we need to start with cities. Thus, local action and local implementation of the sustainable development Goals is more important than ever.
Mizbah Uddin also opined that the Covid-19 pandemic and recent conflicts, particularly the Russia-Ukraine war, have been adjudged as detrimental to the progress made in the fight against poverty, resulting in the emergence of newly poor people.