New Punak President pays homage to Bangabandhu at Tungipara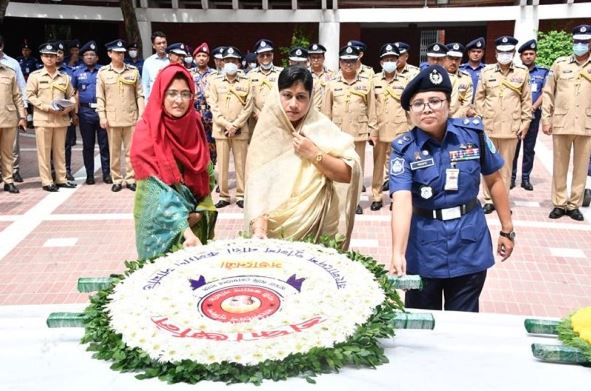 DHAKA, Oct 2, 2022 (BSS) – The New President of Bangladesh Police Women's Welfare Association (Punak) Dr Tayyaba Musarrat Chowdhury has paid rich tributes to Father of the Nation Bangabandhu Sheikh Mujibur Rahman at Tungipara in Gopalganj district yesterday.
Dr Tayyaba Musarrat Chowdhury, wife of newly appointed Inspector General of Police (IGP) Chowdhury Abdullah Al-Mamun, also an Associate Professor of the Red Crescent Holy Family Hospital, placed floral wreaths at the mausoleum of the great leader at Tungipara.
She recited Fateha and joined a Munajat seeking the eternal peace of the departed souls of Bangabandhu and other martyred family members who embraced martyrdom on the fateful August of 15, 1975.
The Punak president stood in solemn silence for some time as a mark of profound respect to the memory of the Father of the Nation.