Hasan mourns death of eminent journalist Toab Khan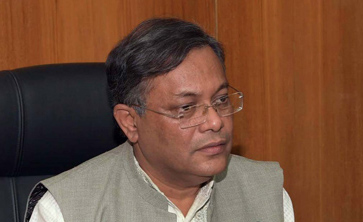 DHAKA, Oct 1, 2022 (BSS) - Information and Broadcasting Minister Dr Hasan Mahmud today expressed profound shock and sorrow at the death of eminent journalist and editor of the Dainik Bangla Toab Khan.
In a message of condolence, the minister said the death of Toab Khan is a sad demise of a legendary journalist who remained engaged in the field of journalism till his death.
He said Khan, who was also Ekushey Padak winner and press secretary to Father of the Nation Bangabandhu Sheikh Mujibur Rahman, played a unique role in the field of journalism for about seven decades through joining the Weekly Janata in 1953, said Hasan, also Awami League joint general secretary.
The minister prayed for eternal peace of the departed soul and conveyed deep sympathy to the bereaved family.
Toab Khan passed away today at a city hospital at the age of 87.
He also served as Principal Information Officer and director general of the Press Institute of Bangladesh (PIB).
He was the advisory editor of Daily Janakantha till last October from its inception.
Later, he joined as the editor of Dainik Bangla after it was published under a new shape and management.