Hasan urges people of Rangunina to remain beside him in next polls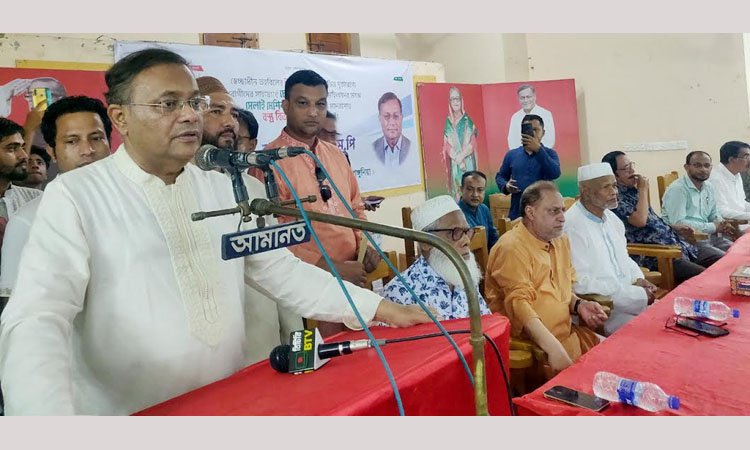 CHATTOGRAM, Sept 30, 2022 (BSS) - Information and Broadcasting Dr. Hasan Mahmud today urged the people of Rangunia to keep their doors open for him in the next national elections as he was beside them in the past.
"The national election is approaching. Please pray for me, when I will visit your doors in the election, keep your doors open for me," Hasan, also Joint General Secretary of Bangladesh Awami League, said.
He said these while distributing checks and assistance among the needy people of Rangunia Upazila this evening.

Dr. Hasan Mahmud said, "Apart from the government, we are conducting many development activities in Rangunia through our family organization, NNK Foundation".
"We have built as many as 21 new mosques in Rangunia through various NGOs including Allama Fazlullah Foundation. I have disbursed a debt of Taka one crore from my personal funds in 2012. I bought power tillers and distributed it for the development of farmers in every union of Rangunia upazila. I have distributed rickshaws among the poor and now I am procuring autorickshaws for poor and unemployed youths," he added.
The minister said NNK Foundation has been carrying out various development activities side by side with helping people of Rangunia.
NNK Foundation Director Master Abdur Rauf presided over the function, while NNK Foundation Officials Jasim Uddin Talukder and Emrul Karim Rashed conducted the function.

Rangunia Upazila Chairman Swajan Kumar Talukdar, Upazila Nirbahi Officer Ataul Gani Osmani, Mayor of Rangunia Municipality Shahjahan Sikder, general secretary of Red Crescent Society of Chattogram district Master Aslam Khan, Awami League leaders Idrich Azgar, Aktar Hossain Khan and Engineer Shamsul Alam Talukder, among others, spoke on the occasion.