RTI will enhance root of multi-dimensional democratic society: Hasan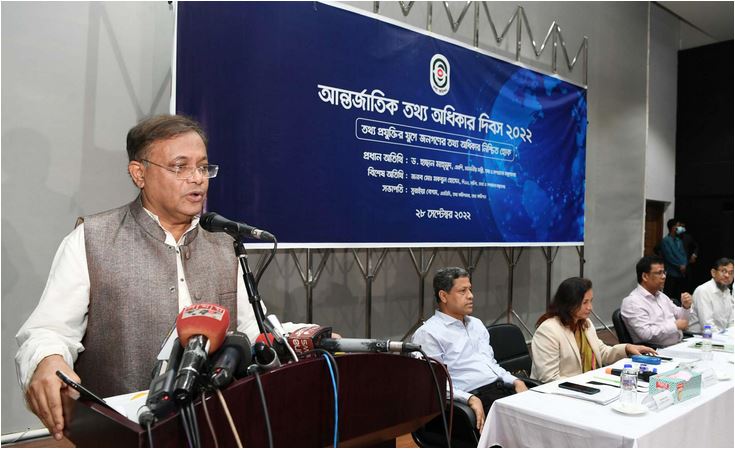 DHAKA, Sept 28, 2022 (BSS) - Information and Broadcasting Minister Dr Hasan Mahmud today said the government is building a multi-dimensional society and the right to information of people will strengthen the base of the society.

"The government has ensured the right to information and everyone should remain aware of their responsibility," he said, joining a discussion at an auditorium of Film Archive at Agargaon in the capital.

The Information Commission organised the discussion marking the International Day for Universal Access to Information with the theme 'Ensuring People's Right to Information in the Era of Information Technology'.

Information and Broadcasting Secretary Md Mokbul Hossain and Information Commissioner Dr Abdul Malek addressed the discussion as special guests with Information Commissioner Suraiya Begum in the chair.

Hasan said Prime Minister Sheikh Hasina has ensured the right to information of the countrymen. The Information Commission Act has been passed in the parliament after the ruling party formed the government in 2009 and the premier has ensured the right to information through forming the commission, he observed.

He said the aim of the commission is to ensure free flow of information for the people and to make connectivity between the government and the people.

He said every country has state secreted information and the state could not give the secret information if anyone wants. Personal privacy of people is also protected by law in the country like all other countries, he added.

And it is never appropriate to take different way for those information, said Hasan, also Awami League joint general secretary.

The minister said the government has also brought transparency in conducting the state through e-governance like e-tendering.

He said a draft of any policy is given on a website for opinions of all. These transparencies of the government deserve praise, he added.

The minister boldly said Bangladeshi media is enjoying more freedom. In the UK, if there is a false or untrue report against someone, a lawsuit is filed and the media is fined, he said, adding an entire BBC team had to resign for broadcasting false news against an MP.
Hasan said, in 2011, the 167-year-old newspaper named "News of the World" was fined a huge amount on charge of misreporting by a court, causing to wind up the company after being bankrupted.
The minister said that such kind of scenario has never been happened in Bangladesh.

Later, Hasan handed over prizes and crests to Health Education and Family Welfare Division secretary Md Saiful Hassan Badal and Food Ministry secretary Md Ismail Hossain and 16 others officials of different departments, divisional, district and upazila levels for ensuring right to information.

A total of 1.24 lakh 545 applications related to information have been resolved in the against 1.29 lakh 541 applications till now.