Shaheed Moyezuddin's 38th death anniversary tomorrow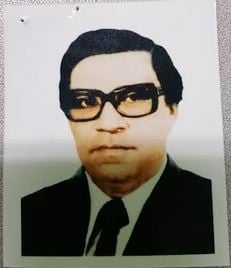 DHAKA, Sept 26, 2022 (BSS) - The 38th death anniversary of former Awami League (AL) leader and lawmaker, martyr of anti-autocracy movement and freedom fighter Shaheed Mohammad Moyezuddin will be observed tomorrow.
To mark the day, different organisations, including Awami League, have chalked out programme, including placing wreaths at the grave of the great leader in the morning, discussion, milad and doa mahfil in the capital and in Kaliganj upazila in Gazipur, the ancestral home town of Moyezuddin.
On the eve of the death anniversary, President M Abdul Hamid and Prime Minister Sheikh Hasina gave separate messages paying glowing tributes to the memories of martyr of anti-autocratic movement Mohammad Moyezuddin.
In her message, Sheikh Hasina said Moyezuddin was the first martyr as a politician in the anti-autocracy movement against military dictator HM Ershad in 1984.
Moyezuddin had very close relations with this soil and its people, she said, adding that his personality, wisdom, honesty and patriotism inspired all.
The premier urged the new generation politicians to follow the ideals Moyezuddin.
She prayed for eternal peace of the soul of Moyezuddin.
A memorial meeting was held at the Jatiya Press Club here marking the 38th death anniversary of Shaheed Mohammad Mayezuddin.
Awami League (AL) Advisory Council Member and 14-party alliance spokesperson Amir Hossain Amu addressed it as the chief guest with Awami League Women Affairs Secretary Meher Afroz Chumki in the chair.
AL Advisory Council Member Mozaffar Hossain Paltu, Presidium Member Advocate Quamrul Islam and Daily Observer Editor Iqbal Sobhan Chowdhury also spoke it, among others.
Moyezuddin, a celebrated son of Gazipur district, obtained his LLB degree from Dhaka University in 1960 and became active in politics apart from beginning his career in law.
He was convener of Mujib Fund, which was formed to bear the expanses of conducting the Agaratala Conspiracy Case filed against Father of the Nation Bangabandhu Sheikh Mujibur Rahman and others and also convener of the committee formed to conduct the case.
As a learned lawyer and politician, Moyezuddin served the historic duty with utmost efficiency and courage.
He served as general secretary of greater Dhaka district unit of Awami League and he became president of the committee later.
He was elected a member of Provincial Assembly and Jatiya Sangsad in 1970 and 1973 respectively from Gazipur-Kaliganj constituency.
Moyez Uddin, father of Awami League Women Affairs Secretary Meher Afroz Chumki, was killed by a criminal gang on September 27, 1984 while he was leading a protest procession at Kaliganj during the anti-autocracy movement.