BRUR VC for performing duty properly for country's sake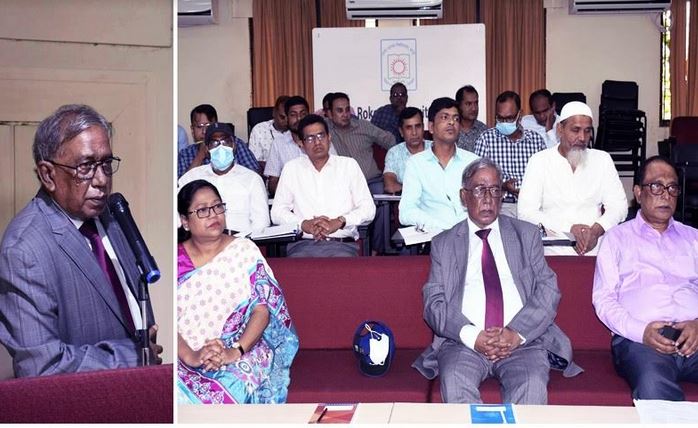 RANGPUR, Sept 26, 2022 (BSS) - Vice-chancellor of Begum Rokeya
University, Rangpur (BRUR) Professor Dr. Md. Hasibur Rashid today stressed on
performing duty properly for the country's sake by all to realize the dream
of the Father of the Nation Bangabandhu Sheikh Mujibur Rahman.
"Not for own sake, but for the sake of the country, everyone should have
to fulfill their own responsibilities properly and work with a service
mentality ensuring transparency of work in all areas," he said at an internal
training workshop as the chief guest.
The Institutional Quality Assurance Cell (IQAC) of the university
organized the event for its officials at Virtual Class Room of Academic
Building-2 on the campus with assistance of the Annual Performance Agreement
(APA) Committee of the university.
The event was arranged aiming at implementing the National Integrity
Strategy formulated by the government to ensure good governance through
preventing corruption and establishment of integrity.
Pro Vice-chancellor of the university Professor Dr. Sarifa Salwa Dina and
its Treasurer Dr. Mojib Uddin Ahamed attended the event as discussants with
Registrar Engineer Mohammad Alamgir Chowdhury in the chair.
Professor Rashid said the desired development of Begum Rokeya University
is possible through mutual cooperation and service activities of all
officials of the university.
"One glittering example of such possibilities is de-cluttering of four-
year sessions-jam in the shortest time in this university. So, the academic
and administrative development of this university requires the cooperation of
all concerned," he said.
Dean of the Faculty of Social Sciences Md. Shariful Islam, Director of
Finance and Accounts Professor Dr. RM Hafizur Rahman, Director of Planning
and Development Division Md Osman Gani Talukder, Director (In-charge) of the
Office of the External Affairs Md. Sabbir Ahmed Chowdhury, Deputy Director of
Finance and Accounts Khandaker Ashraful Alam, Deputy Director of Center for
Digital Transmission SM Abdur Rahim and Deputy Director of the Public
Relations, Information and Publication Division Mohammad Ali addressed.