Community-based rainwater plants: a solution to coastal water woes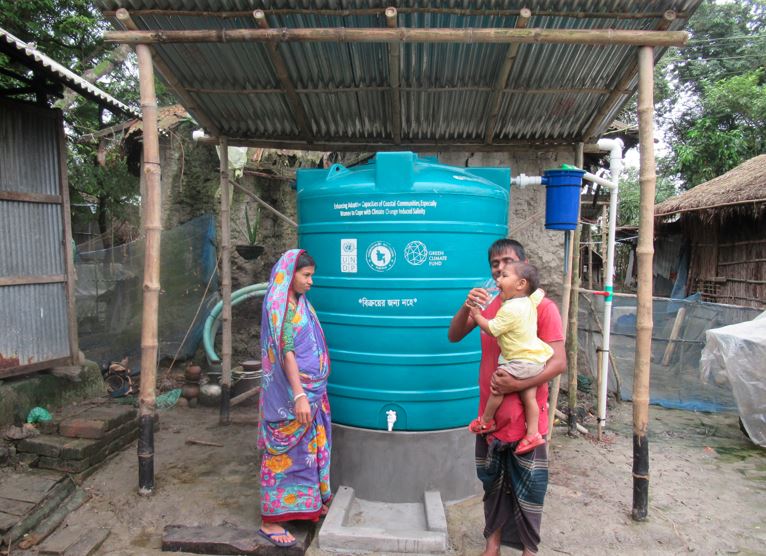 Rafiqul Islam

KHULNA, Sept 26, 2022 (BSS) – Once Tulsi Gain, 40, had to walk one to two kilometre to bring drinking water for her household but now she collects water from a pond-based water plant installed near her home.

"Water is everywhere around us but all are saline water. In the past, we had a scarcity of sweet water. We had to travel a long distance to bring drinking water," she said.

Tulsi Gain, a resident of Paschim Bajua village under Dakope upazila, said she along with other coastal women collects drinking water from a pond-based rainwater harvesting plant installed under the Gender-responsive Coastal Adaptation (GCA) Project.

She said using prepaid cards, a total of 200 households collect water from the plant set up on the premises of Paschim Bajua High School ground.

Tulsi Gain, also the water plant's cashier, said every household can collect 10 litres of water per day from the plant using their prepaid cards while they have to pay 25 paisa for per litre of water.


A total of 228 community-based rainwater harvesting plants and 41 pond-based plants have been installed at 39 unions of five upazilas in Khulna and Satkhira under the GCA project being implemented by UNDP Bangladesh in partnership with the Women and Children Affairs Ministry and the Department of Public Health Engineering (DPHE).

Ashoke Kumar Adhikary, regional project manager of GCA project, said community-based rainwater harvesting system having water tanks with capacity of 2,000 litres to 50,000 litres were installed at different schools, mosques and temples in the five coastal upazilas.

"Basically we have installed this system at public institutions…a pond-based ultra filtration system was installed at Paschim Bajua School and the plant provides drinking water to 200 households," he said.

The GCA project empowers climate vulnerable coastal communities, especially women, as 'change agents' to plan, implement, and manage resilient livelihoods and drinking water solutions.

Access to reliable and safe drinking water enables the communities, especially women and girls in targeted households, to invest the resulting time and cost savings and health co-benefits in enhanced livelihoods and income-generating and educational opportunities. The project is expected to bring gender transformational changes in the households and communities.


The project has already ensued gender-responsive access to year-round safe and reliable climate-resilient drinking water solutions for 30,934 households, while it installed household-based rainwater harvesting systems, community-based rainwater harvesting systems, institution-based rainwater harvesting systems and pond-based ultra filtration systems in the five project upazilas of Khulna and Satkhira.

It is also strengthening the institutional capacities, knowledge and learning for climate-risk informed management of livelihoods and drinking water security of the relevant government officials and stakeholders.

Adhikary said: "We are working with 43,000 households needing drinking water. The water you are looking at is saline water if those are not rainwater. The underground water is also saline. That's why people of the region cannot use the saline water for drinking and household purposes."

He said the project also provided water tanks for 13,000 households so that can reserve 2,000 litre of rainwater in each tank during the monsoon and they can drink those during the dry season.