Veteran journo Ranesh Maitra passes away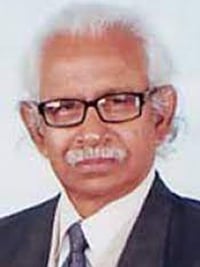 DHAKA, Sept 26, 2022 (BSS) - Language movement veteran, Freedom Fighter and Ekushey Padak winning journalist Ranesh Maitra passed away while undergoing treatment at a city hospital. He was 90.
He breathed his last around 3.47am today (September 26, 2022) at a hospital in the city.

He left behind his wife, two sons, three daughters and a host of family members, friends and well wishers to mourn his death.

Maitra was born on October 4, 1933 in Nowhata village of Rajshahi district.

He started his career as a journalist in 1951 in the weekly newspaper 'Nawbelal' published from Sylhet.

Ranesh Maitra was one of the organizers of the language movement in 1952. In the same year, he was elected the president of the district organizing committee of the student union.

In 1952, he was one of the strongest organizers of the Language Movement and was elected the Chhatra Union district unit president.

He joined 'Dainik Sangbad' in 1955 after working as a journalist for three years in 'Dainik Satyajug' published from Calcutta. He has served as Pabna correspondent in reputed dailies like The Daily Morning News, Daily Observer, The New Nation and The Daily Star.

Since 2001, he voluntarily retired and wrote columns as a freelance journalist.

In 2018, he was awarded Ekushey Padak, the second highest civilian award given by the Government of Bangladesh, for his contribution to journalism.

Recently, Ranesh Maitra won the 'Bashundhara Media Award' for his special contribution to journalism.