BSS holds programmes on integrity strategy, e-governance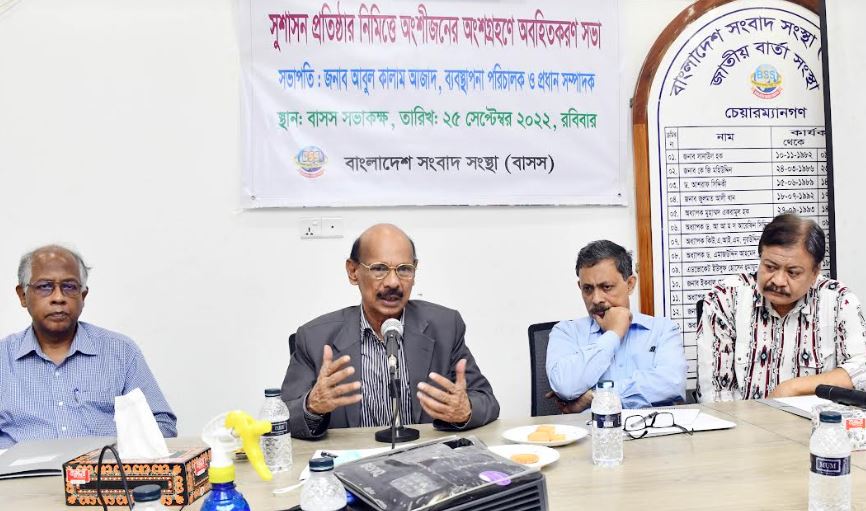 DHAKA, Sept 25, 2022 (BSS) - Bangladesh Sangbad Sangstha (BSS), the national news agency, today organised separate programmes to apprise its journalists and officials about 'National Integrity Strategy Action Plan, 2022-2023' and 'e-Governance and Innovation Action Plan, 2022-2023'.
Besides, the state-owned agency also held "Stakeholders Meeting on National Integrity Strategy (NIS) Implementation Work Plan 2022".
BSS Managing Director and Chief Editor Abul Kalam Azad presided over the events while Managing Editor Anisur Rahman conducted the sessions.
BSS Chief News Editor (CNE) Samir Kanti Barua, CNE (Bangla) Ruhul Ghani Jyoti and Chief Reporter Tareq Al Naser were present at the sessions, among others.

Deputy Secretary (Admin-2) of Information and Broadcasting Ministry Muhammad Delowar Hossain and Press Institute Bangladesh (PIB) Research Expert (IT) Dr Quamrul Haq presented different aspects of the topics.
Institutional management, development of financial management and integrity related and other supporting activities for improving overall working environment and preventing corruption were discussed in the first session on the integrity strategy.
Besides, strengthening e-governance and implementation of innovative activities and increasing institutional capacity were highlighted in the second session on the e-governance and innovation.