Durga Puja countdown begins with Mahalaya celebration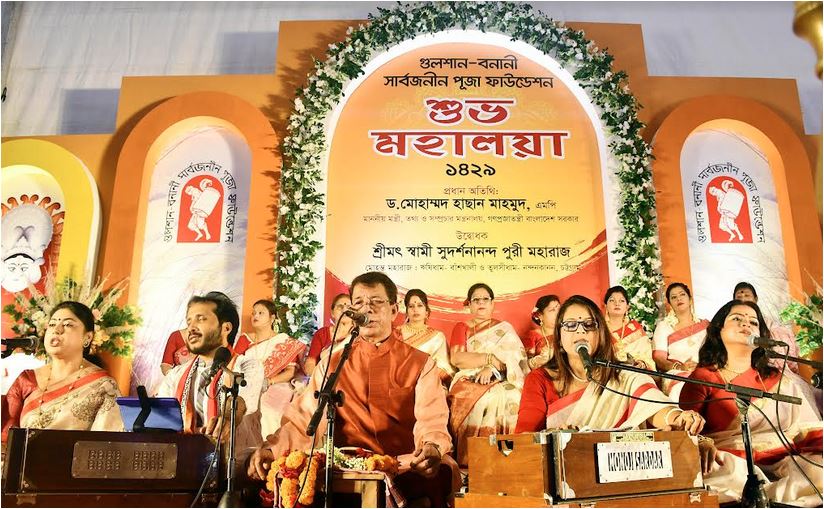 DHAKA, Sept 25, 2022 (BSS) - The country's Hindu community today celebrated Mahalaya, the auspicious occasion of heralding the advent of Goddess Durga, with due religious fervour and gaiety.
Mahalaya marks an invitation of sorts to goddess Durga to begin her journey from Kailash to her paternal home (earth), along with her children.
This invitation is extended through the chanting of mantras from Sri Sri Chandi and singing of devotional songs.
Countdown of Durga Puja begins with the celebration of Mahalaya.
On the occasion of the day, special programmes of Mahalaya were arranged at different temples across the country including the capital at dawn.
To mark the Mahalaya, members of the Hindu community remembered and paid homage to their ancestors, who passed away, by performing puja, and offering Brahmins clothes, food and sweets in their name.
Mahanagar Sarbajanin Puja Committee arranged a special programme at Dhakeshwari National Temple at 6am.
Gulshan-Banani Sarbajanin Puja Foundation organised a programme welcoming Goddess Durga at 5.30am at Banani playground.
Information and Broadcasting Minister Dr Hasan Mahmud attended the event as the chief guest while Panna Lal Dutta chaired it.
Similar programmes were also arranged in different temples in the capital city and across the country.
Social media is abuzz with photos and videos shared and posted by Hindu community members welcoming the advent of Goddess Durga. Members of different faiths also greeted Hindus on the occasion of Mahalaya on social media.
With the beginning of 'Devipaksha', Mahalaya is observed six days before Durga Puja, the biggest religious festival of the Bangalee Hindu community.
Usually, the Devi Paksha commences with Mahalaya Amavasya.
According to Hindu mythology Mahalaya marks the last day of 'Krishnapaksha', which is a dark fortnight of the month of Ashwin.
In the Indian state of West Bengal, Mahalaya was depicted in a show-tell manner, with songs, enactments and dances on regional television channels.
The television show was also viewed by a lot of people specially children in Bangladesh at dawn.
The most popular rendition of it, however, has been in the sonorous recorded voice of Birendra Krishna Bhadra, whose collection of songs and mantras called Mahishasura Mardini were played on the occasion of the Mahalaya in Bangalee household mostly in West Bengal as well as in Bangladesh early in the morning.
Though Durga Puja will formally begin on October 1 with Maha Shasti Puja, the advent of Durga heralded from today.
The nine-day festival of Navratri dedicated to Goddess Durga in the month of Ashwin usually commences soon after Pitru Paksha ends.
On October 1, Durga Puja will begin with various rituals on the day of Maha Shashthi and will end on October 5 with immersion of idols.