BNP wants to create anarchic situation in country: Amu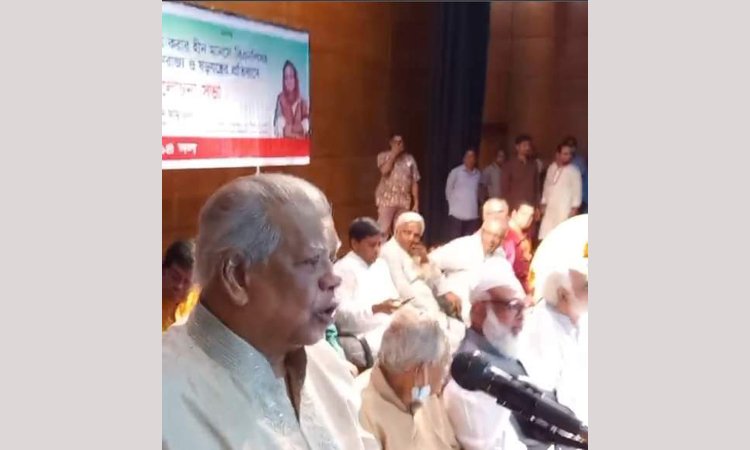 DHAKA, Sept 23, 2022 (BSS) - Awami League (AL) Advisory Council Member and 14-party Alliance spokesperson Amir Hossain Amu today said strict action will be taken if BNP tries to create anarchic situation in the name of movement in the country.
"We don't want to see anarchic situation in the country anymore, but if they (BNP) tries to create any sorts of such situation we would not stay at home," he said.

He told a discussion organized by 14-party alliance against the subversive act carried out by BNP and their followers at the Institution of Diploma Engineers, Bangladesh.

Amu said AL leaders and activists will resist all sorts of BNP's conspiracies together. "We will vanguard the state and the property of its people," he added.

He also said the main target of BNP is not election, rather they will create unstable situation as the party wants to establish undemocratic government in the country.
The veteran AL leader Amu said BNP wants to turn Bangladesh like Pakistan. Talking in favour of Pakistan by BNP Secretary General Mirza Fakhrul Islam Alamgir Pakistani it has been proved, he added.
Amu said it's not clear in BNP's statement whether they want election as sometimes they talk about national government and sometimes they talk about caretaker government.
He said BNP is now isolated from the people and that's why they are searching option how to escape from the upcoming general elections.
AL Liberation War Affairs Secretary Mrinal Kanti Das moderated the function.
Workers Party President Rashed Khan Menon, AL Presidium Members Mofazzal Hossain Chowdhury Maya Bir Bikram and Advocate Kamrul Islam, Samyabadi Dal General Secretary Dilip Barua, Chairman of Bangladesh Tarikat Federation Syed Najibul Bashar Maizbhandari, General Secretary of Ganatantri Party Dr. Shahadat Hossain, NAP acting General Secretary Ismail Hossain, BASOD Convener Rizaur Rashid Khan and JASAD Joint General Secretary Nader Chowdhury, among others, spoke.