KCC Mayor completes four years, achieves 85 percent election pledges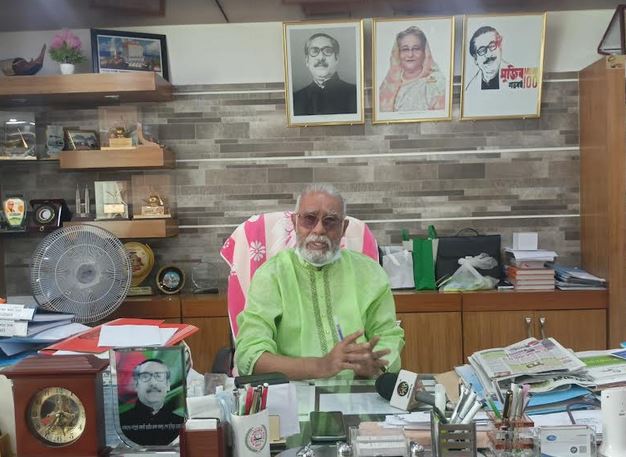 KHULNA, Sept 22, 2022 (BSS)-Khulna City Corporation (KCC) Mayor Talukder Abdul Khaleque will complete his four years in office on September 25 achieving 85 percent of his major election pledges.
A total of 33 election pledges including taking steps to address roads and drainage problems, reducing traffic congestion, ensuring modern garbage management, construction of footpath and encroachment, canal and river digging and removing perennial water logging problem of the city, were announced by him during the mayoral election.
"I have already achieved 85 percent of my election pledges. After completion of the ongoing development projects within one year, Khulna City will have a great look, with a clean, green and modern habitable one," KCC Mayor Talukder Abdul Khaleque said these in an exclusive interview with BSS at his office today.
Beside the pledges, his electoral manifesto also featured with the promises of ensuring civic amenities following needs of the city dwellers, making the city free from water logging, smooth traffic system, modern re-cycling of garbage, gridlock and pollution.
"KCC is now implementing construction works of 400 city roads, drain-widening, canal digging and modern garbage management system at a cost of Taka 393 crore," he said, adding that uplift works worth about Taka 1400 crore project titled ''Integrated Urban Infrastructure Development in Khulna City' will be completed step by step.
He also said, the construction work of 39 roads has not started yet due to the delay working process of Khulna Water and Sewerage Authority (WASA).
Besides, the digging of eight kilometers Mayur River, canals including Matiakhali and Khuderkhal will be started as soon as possible, he said, adding that the work order of the construction work has already been given.
Khaleque, however, said they have planned to conserve 31 natural water bodies under a project titled "Natural Water Bodies Conservation and Development in Khulna City" to retain its surface water resources for protecting the environment from further degradation.

"We have also adopted a project styled "Construction of City Center" involving around Taka 350 crore," Khaleque said.
The 15 storied city center will be equipped with cultural center, Cineplex, 300 shops, food court and ICT facilities, he said, adding that the project is now lying to the ECNEC for its approval.
KCC will implement fecal sludge treatment and recycling plant, modernization of parks for the citizens' entertainment and 22 KCC's intersection will beautify with heritage of Khulna, said Khaleque, also president of Awami League (AL) Khulna city unit.
Putting up his pledge for streamlining the traffic movement, Khaleque said some areas of the city were marked for construction of over bridges.

In replying to a question, he said that due to the lack of cooperation among KDA, WASA, and other associated authorities, the construction works are being hampered.
"Without City Government, cooperation between KCC and KDA and others concerned authorities, development projects could not be possible to implement in due time," he added.
Mentionable, Awami League-backed candidate Talukder Khaleque was elected as Mayor of KCC defeating BNP-backed candidate former parliament member (MP) Nazrul Islam Manju on May 15 in 2018.
He took the charge of his office on September 25 in the same year.