UN official asks polluter nations to help Bangladesh recoup climate-induced losses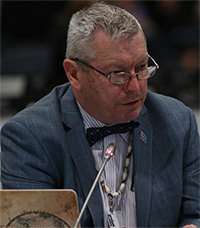 DHAKA, Sept 15, 2022 (BSS) - UN Special Rapporteur on Human Rights and Climate Change Ian Fry today said the industrialized countries are doing little to help Bangladesh while the country faces massive loss and damage due to climate change.

"It is time the polluters paid for the loss and damage inflicted on other countries," he said.

Fry was addressing a virtual press conference following visit to Bangladesh's coastal Khulna and low-lying Sylhet regions.

This is the first official visit by the UN expert since he took office on May 1 while he will present a report on his visit to the UN Human Rights Council.

He said loss and damage is well enshrined in decisions made by the Conference of Parties (COP) and the Paris Agreement.

Despite institutional progress, he said, no money has been provided by the international community for loss and damage.
"This is a totally inadequate and contemptuous response to the need for loss and damage finance," he said.

He said countries like Bangladesh cannot afford the impacts of the climate change that the major polluters are creating.