Govt procures 2.03 lakh tonnes of Boro rice in Rajshahi division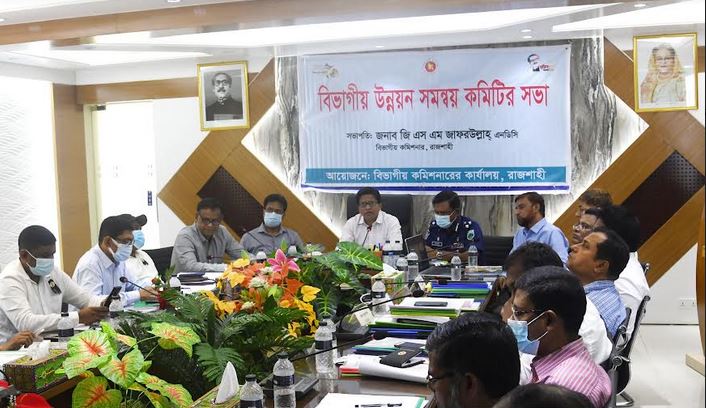 RAJSHAHI, August 17, 2022 (BSS) - The government has, so far, procured around
2,02,996.59 tonnes of Boro rice during the current season contributing a lot
towards food security in the region.

As part of its ongoing rice procurement drive commenced on May 7 last, the
government has bought the food grain from all eight districts in Rajshahi
division. Besides, 17,424.28 tonnes of Boro paddy was also procured during
the same period till Monday.
This was revealed in the Rajshahi divisional Development Coordination Meeting
held at the conference hall of divisional commissioner office here on
Tuesday.
With Divisional Commissioner GSM Zafarullah in the chair, the meeting was
addressed, among others, by Deputy Inspector General of Police Abdul Baten,
Additional Commissioners Dr Ziaul Haque and Moinul Islam, Divisional Director
of Health Dr Habibul Ahsan Talukder and Regional Controller of Food Faruque
Hossain Patwary.
The meeting was told that rice is being procured at Taka 40 per kilogram and
paddy at Taka 27 per kilogram. The government has set a target of procuring
2,73,570 tonnes of rice, while 1,09,329 tonnes of paddy in the division
during the current season until August 31.
Contracts have been signed with 3,565 husking and auto millers for collecting
2,43,401.9 tonnes of rice. The enlisted millers have been supplying rice as
per terms and conditions of the contract.
Farmers have produced around 32.50 lakh tonnes of Boro rice from 8.18 lakh
hectares of land in the division during the recent past harvesting season.
Faruque Hossain Patwary also told the meeting that 7.76 lakh households will
get 30 kilograms of rice in each month at Taka 15 per kilogram under the
government's food friendly programme from the next month in the division.
Sadequl Islam, Additional Chief Engineer of the Roads and Highway Department,
said they are implementing 12 development projects at a cost of Tk 4,650.31
crore to improve the existing road network in the division.

The projects are being implemented in Rajshahi, Naogaon, Chapainawabganj,
Natore, Pabna and Sirajganj districts.

"We are putting efforts at our level best to complete the projects within the
stipulated time," he said, adding that utmost emphasis is being given on
ensuring transparency and accountability in implementing the uplift of the
projects.
He also told the meeting that the process of widening the Chapainawabganj-
Sonamasjid port highway is progressing as vehicle pressure on the road is
gradually rising.
"We are also planning to elevate the Rajshahi-Chapainawabganj highway to
four-lane," he added.
Commissioner Zafarullah called for ensuring proper gas supply side by side
with ensuring fertilizer supply to the farmers at a fair price. Utmost
emphasis should be given on close supervision and monitoring on the
activities of fertilizer dealers.