Santal midwives perform 200 normal deliveries at Sapmara UHFWC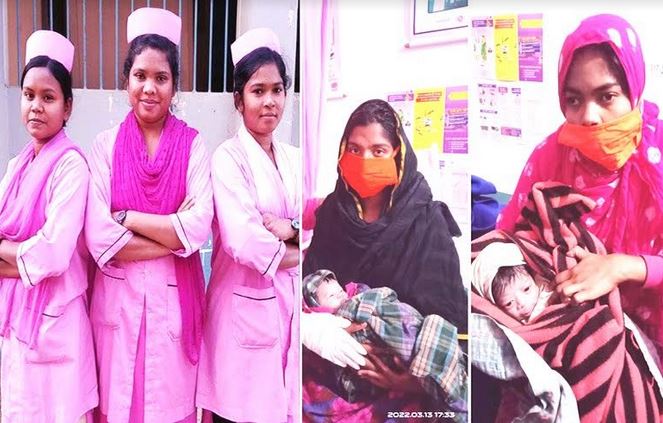 RANGPUR, Aug 17, 2022 (BSS) - Three Santal midwives have set up a glaring example of performing 200 normal deliveries in two years at Sapmara Health and Family Welfare Centre (UHFWC) in Gobindaganj upazila of Gaibandha district.

Beginning from July, 2020, midwives Minoty Murmu, Silvia Mardy and Nipa Soren have provided dedicated sexual reproductive health and rights (SRHR) services to socially backward local women, especially Santal community, at the UHFWC.

Under management of a Santal Field Coordinator and support of nine Santal Health Workers, the midwives are also providing four antenatal care (ANC) and four postnatal care (PNC) services to pregnant women and mothers there, said a press release.

The SRHR services are being provided to local backward women, especially to the Santal community women, under the Santal Health Project being run by LAMB at Sapmara UHFWC.

UNFPA Bangladesh, Directorate General of Family Planning and Directorate General of Health Services are extending technical support to implement the project for backward women in Gaibandha and female workers at tea gardens in Moulvibazar districts.

To celebrate the success in performing 200 normal vaginal deliveries by the three midwives, a cake-cutting function was arranged at Sapmara UHFWC on Tuesday afternoon.

People of Sapmara union, mainly inhabited by the socially backward Santal community, and Members of the Managing Committee of the UHFWC attended the event.

Programme Analyst of UNFPA Bangladesh Md. Samsu Zaman attended the function as the chief guest with SRHR District Officer for Gaibandha Dr. Armina Khatun in the chair.

Project Manager of World Mission Prayer League (LAMB Hospital) at Parbatipur in Dinajpur Mahatab Liton, its Deputy Project Manager Dr. Tahmina Khatun Sonia, SRHR District Officer for Bogura Dr. Ishraat and employees of Sapmara UHFWC were present.

Dr. Sonia said preventable maternal and newborn deaths are still prevailing among marginalized ethnic communities despite the overall progress Bangladesh has made in reducing maternal and infant mortalities to attain the sustainable development goals.

"As a result, the Ministry of Health and Family Welfare has taken special initiative to improve quality and availability of maternal and SRHR services among marginalized communities," she said.

Narrating her experience, midwife Minoty Murmu said after completing her three-year midwifery diploma in 2019 with UNFPA support, she applied for a licensing exam under Bangladesh Nursing and Midwifery Council and succeeded to become a registered midwife.

"I began performing duties at Sapmara UHFWC as part of the UNFPA-supported project designed to improve SRHR services among the Santal community," she said.

"As a result of making Santal women aware about SRHR services and ensuring their constant care during pregnancy, normal delivery and postpartum period, the maternal and neonatal health situation has improved among the community," she said.

Like Minoty, midwives Silvia Mardy and Nipa Soren said they are very happy as their dreams have come true through serving as midwives in their own backward community although the work is not always easy.

"We are changing mindsets in our own Santal community alongside forming special bonds with local women to communicate in the same language and inspire them in availing the SRHR services to ensure normal deliveries," said Silvia.