Everyone needs to perform own duties to build Bangabandhu's 'Sonar Bangla': Azad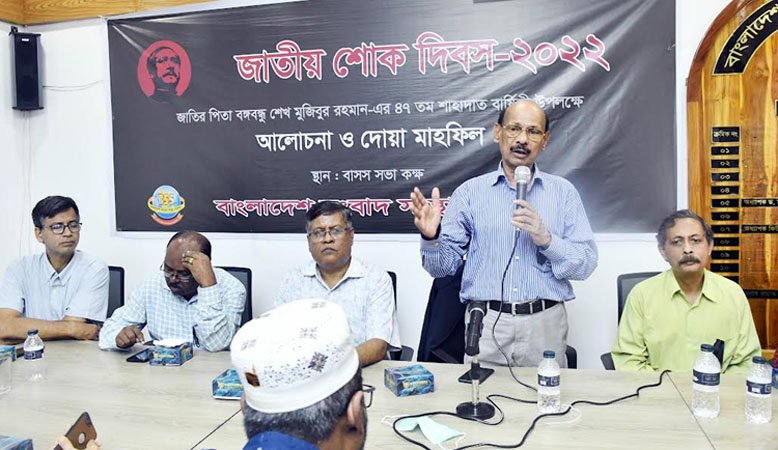 DHAKA, Aug 16, 2022 (BSS) - Managing Director and Chief Editor of Bangladesh Sangbad Sangstha (BSS) Abul Kalam Azad today said that the country will be transformed into 'Sonar Bangla' dreamt by Bangabandhu if everyone performs their respective duties sincerely.
"Father of the Nation Bangabandhu Sheikh Mujibur Rahman was a prudent and visionary leader. The steps he had taken just after the country's independence are bearing the signature of Bangabandhu's wisdom," he said.
Azad said Bangabandhu's initiatives, including the border agreement and oil-gas agreement, are still showing the country path towards development and prosperity.
The BSS chief said these in his concluding remarks while presiding a discussion and doa mahfil organized by the state-run news agency, marking the 47th martyrdom anniversary of Bangabandhu at the BSS Boardroom here.
He emphasized on reading Bangabandhu's three books- 'Asamapta Atmajibani' (The Unfinished Memoirs), 'Amar Dekha Naya Chin' (The New China as I Saw) and 'Karagarer Rojnamcha' (Prison Diary) and other books written by special foreign writers - to learn about the Father of the Nation.
BSS Managing Editor Anisur Rahman, Chief News Editor Ruhul Ghani Jyoti, Deputy Chief News Editors Omar Faruque and Sawkat Ali, City Editor Madhusudan Mondal, News Editor Nure Jannat Akhtar Sima, Special Correspondent Mahfuza Jasmine, Senior Sub-Editor Khairuzzaman Kamal, senior reporters Ataur Rahman, Syed Shukur Ali Shuvo, Mujibur Rahman Jitu, Selina Sheuli and Kabir Ahmed Khan, and BSS Employees Union President Mostaque Ahmed spoke on the occasion.
BSS National Desk Coordinator and Deputy Unit Chief Tanvir Aladin moderated the discussion.
Speaking on the occasion, Anisur Rahman said Bangabandhu had been dreaming of an impendent and prosperous Bangladesh from the colonial period that prompted him to carry out all his political activities centering the East Pakistan since India-Pakistan partition in 1947.
He said Bangabandhu was a great human being enriched with wisdom, courage, forgiveness and humanity.
Omar Faruque, in his speech, put emphasize on identifying the mastermind behind the Bangabandhu killing, saying that the derailed military officials had killed Father of the Nation as part of following order of someone else.
He demanded execution of the death penalty to the remaining (convicted) fugitive killers of Bangabandhu after extraditing them.
Besides, Madhusudan Mondal said conspiracies are being hatched against the ruling Awami League. So, all should remain alert about the conspirators, he added.
At the onset of the programme, Maulana Jahangir Alam administered a special munajat (prayers) seeking eternal peace of the departed souls of August 15, 1975 martyrs, including Father of the Nation and his family members.