National Mourning Day observed at missions abroad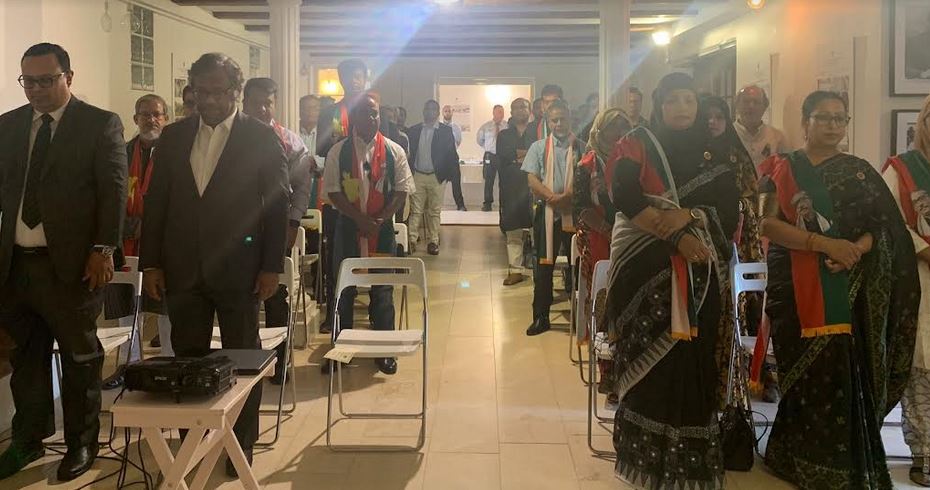 DHAKA, August 16, 2022 (BSS) - The National Mourning Day and 47th martyrdom
anniversary of Father of the Nation Bangabandhu Sheikh Mujibur Rahman was
observed on Monday in the Bangladesh missions abroad with due solemnity.
The Permanent Mission of Bangladesh to the United Nations in New York,
Brussels, Cairo of Mysore, Copenhagen in Denmark, Mexico chalked out
elaborate programmes on the day.
The programmes included wearing of black badges by the members of staff of
the missions, hoisting of the national flag at half-mast, reading out the
messages of the President, the Prime Minister and the Foreign Minister,
placing wreaths at the portraits of Bangabandhu, observing one-minute silence
to pay homage to Bangabandhu, holding discussions, poster exhibitions,
screening of documentary on Bangabandhu, blood donation, charity programmes,
offering special prayers, milad and doa mahfils.
Bangladesh High Commission in New Delhi paid glowing tribute to Father of the
Nation Bangabandhu Sheikh Mujibur Rahman.
In observance of the day, the mission also paid homage to Bangamata Sheikh
Fazilatunnesa Mujib, their sons and other family members who were
assassinated by a group of disgruntled army personnel in a pre-dawn gruesome
attack on August 15 in 1975 at their residence in Dhanmondi, according to
message received here today.
The High Commissioner earlier hoisted the national flag at half-mast,
followed by observance of one-minute silence.
A special prayer seeking divine blessings for Bangabandhu and other martyrs
of the 15th August massacre was offered.
Moderated by Deputy High Commissioner Rokeb-ul-Haque, the discussion was
participated by panelists Professor SD Muni from Jawaharlal Nehru University,
President of Foreign Correspondents Club of South Asia Venkat Narayan and
President of South Asian University Dr Kavita Sharma.
They praised the able leadership of Prime Minister Sheikh Hasina in rapid
economic development of Bangladesh. Bangabandhu would have been proud of what
has been achieved under the leadership of his daughter, they added.