BRT girder collapse kills five in city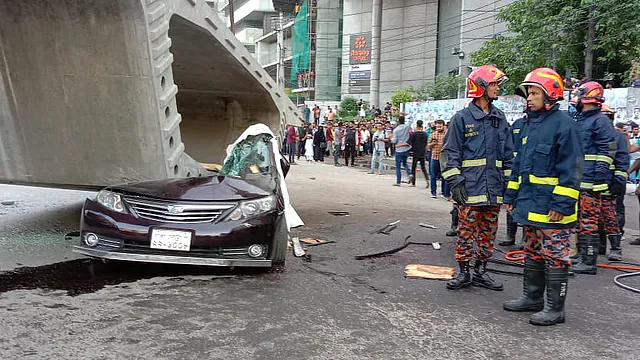 DHAKA, Aug 15, 2022 (BSS) - Five persons, including two children, were crushed to death as a girder of under-construction Bus Rapid Transit (BRT) project collapsed on a private car in the city's Uttara area this afternoon.
Fire Service and Civil Defence recovered five bodies from the private car. They were going to Ashulia from Kawla of Dhaka Airport.

Later, the bodies were sent to Shaheed Suhrawardy Medical College Hospital morgue in the city.
The girder collapsed on the car on the Dhaka-Mymensingh Highway near Jasimuddin Road bus station (in front of Paradise tower) at about 4:10 pm as a crane was moving it leaving five persons dead on the spot and wounding two others, said officer-in-charge of Uttara west police station Mohammad Mohsin.
The deceased are diver Rubel, 50, Jharna, 28, Zakaria, 6, and Jannat 6. Identity of another is yet to be confirmed.
The injured were Hridoy, 26, and Riya Moni, 21.
Being informed, Fire Service and Civil Defence from Uttra Fire Station rushed to the scene and recovered the bodies and rescued the injured persons from the car.

The injured were admitted to Uttara Crescent Hospital, Mohsin said.