BRUR observes National Mourning Day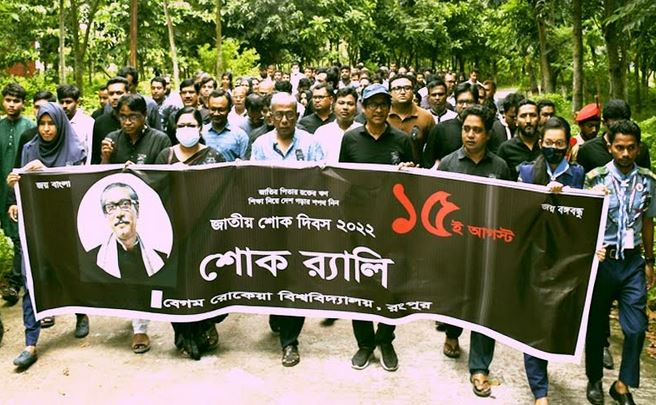 RANGPUR, August 15, 2022 (BSS) - The National Mourning Day-2022 and 47th
martyrdom anniversary of Father of the Nation Bangabandhu Sheikh Mujibur
Rahman was observed at Begum Rokeya University, Rangpur (BRUR) here today.

Vice-chancellor (VC) Professor Dr. Hasibur Rashid and Pro-VC Prof Dr Sarifa
Salowa Dina laid wreaths at the mural of Father of the Nation Bangabandhu
Sheikh Mujibur Rahman on the campus in observance of the day.

The VC also paid due homage to all the martyrs including Bangabandhu who were
brutally killed on August 15, 1975 and prayed for eternal peace of their
departed souls.

Later, wreaths were placed there by different faculties, departments,
offices, residential halls, institutes, teachers' association, officers'
association, employees' union, Chhatra League and sociocultural organisations
of the university paying rich tributes to Bangabandhu.

Earlier, the national flag was hoisted at half-mast, the black flag was
hoisted and black badges were worn and a one-minute silence was observed in
honour of all the martyrs of August 15, 1975.

Led by the VC, a mourning procession with participation of the teachers,
students, officers and employees of BRUR was brought out on the campus and
its adjoining areas.

Dr. Hasibur Rashid also inaugurated a free blood grouping programme arranged
by the Officers' Association of the university.

Recitation from the Holy Quran, milad and doa mehfils were organised at the
university's central mosque seeking divine blessings for eternal peace of the
departed souls of all the martyrs of August 15, 1975, including Bangabandhu.

State Minister for Shipping Khalid Mahmud Chowdhury participated virtually in
a discussion on Bangabandhu as the chief guest with the VC of the university
in the chair.

The Pro VC addressed the discussion as a special guest moderated by Associate
Prof of Department of Bengali Dr. Shafiqur Rahman.

Convener of the National Mourning Day Celebration Committee-2022 of BRUR and
its Dean of the Faculty of Science Prof Dr. Md. Gazi Mazharul Anwar, Dean of
the Faculty of Arts, Prof Dr. Abu Saleh Mohammad Wadudur Rahman, Cafeteria
Director Umar Farooq, Teachers' Association President Md. Shariful Islam and
its General Secretary Syed Anwarul Azim, Associate Prof of the Department of
Marketing Sheikh Majedul Haque, Associate Prof of the Department of
Accounting and Information Systems Dr. Apple Mahmud, General Secretary of
Officers' Association Mohammad Ali spoke, among others, on the occasion.