National Mourning Day observed at JU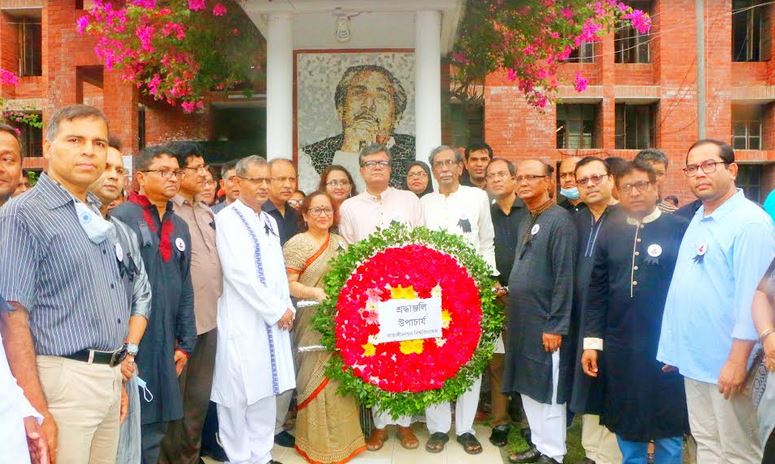 SAVAR, Aug 15, 2022 (BSS) - The National Mourning Day and 47th martyrdom anniversary of Father of the Nation Bangabandhu Sheikh Mujibur Rahman was observed today on the Jahangirnagar University (JU) campus here with due respect.
Marking the day, the university authorities organised various programmes on the campus.
In the early hours of the day, JU Vice-Chancellor Professor Nurul Alam paid homage by placing a wreath at the portrait of Bangamata on Bangamata Begum Fazilatunnesa Mujib hall premises.
Later, a mourning procession, led by JU VC, was brought out from JU Shaheed Minar premises that ended near at Bangabandhu Sheikh Mujibur Rahman hall after parading different street on the campus.
Around 10 am, the Vice-Chancellor paid homage to Bangabandhu by placing a floral wreath at the portrait of Bangabandhu Sheikh Mujibur Rahman.
JU Pro VC (Administration) Professor Md Sheikh Md Monzurul Huq, former Pro-VC Prof Amir Hussain, JU Treasurer Prof Rasheda Akhtar, Registrar Rahima Kaniz, President of 'Bangabandhu Shikkok Parishad' Prof Ajit Kumar Majumdar, Deans of faculties, Provosts of dormitories and teachers of different departments and institutes accompanied the VC.
Jahangirnagar University Teachers Association (JUTA), different teachers' organizations, students' bodies, cultural and social organizations, officials' and employees' organizations also placed floral wreaths at the portrait of Bangabandhu.
Later, JU VC Pro VC, treasurer, registrar, teachers, students and officials of the university paid the homage to Father of the Nation by placing wreaths at his portrait in front of Bangabandhu Memorial Museum at Dhanmondi 32 in the capital around 11am.
Besides, an art competition for the children was held at the old arts building in morning to mark the day.
The university authorities organized a Quran Khatam program at the central mosque, a public banquet at Bishmile area and a Milad Mahfil at the central cafeteria after Asr prayers seeking eternal peace of Bangabandhu and martyrs of August 15.
The national flag was kept at half-mast atop all academic and administrative buildings and black flags were hoisted in front of the administrative buildings and all residential halls.