Beneficiaries of 15 August were involved in Bangabandhu killing: Amu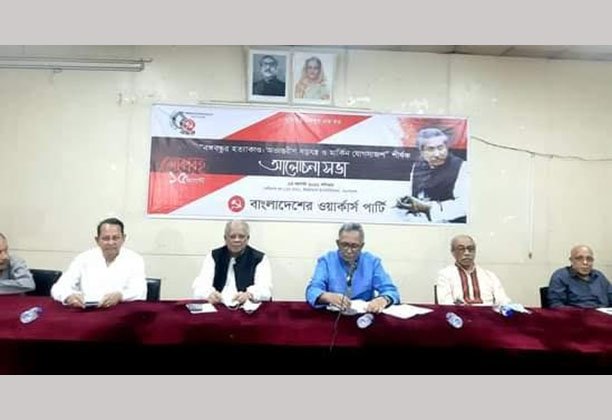 DHAKA, Aug 13, 2022 (BSS) - Ruling Awami League (AL) Advisory Council Member and 14-party alliance spokesperson Amir Hossain Amu today stated that the beneficiaries of 15 August were involved in the killing of Father of the Nation Bangabandhu Sheikh Mujibur Rahman.
"Activities of Zia and Mostaque cleared who hatched conspiracies and were beneficiaries after Bangabandhu's assassination," he said.
The AL leader said this while addressing a discussion organized by Workers Party of Bangladesh at Engineers' Institute in the city to mark the National Mourning Day and the martyrdom anniversary of Bangabandhu, said a press release here.
Amu said the conspiracy of August 15 in 1975 is still going on since repeated attempts have been made to kill Bangabandhu's daughter Prime Minister Sheikh Hasina.
He demanded to form a commission to unmask the masterminds behind Bangabandhu killing and said, "We had demanded it two years ago that a judicial division or public commission should be formed to find out the conspirators behind it (Bangabandhu killing)".
Speaking at the discussion, Jatiya Samajtantrik Dal President Hasanul Haq Inu said killing of Bangabandhu was not merely killing an individual rather it was a conspiracy of making Bangladesh the second Pakistan.
"Ziaur Rahman did the work in a planned way. The constitution still bears the scars of the communal military regime," he added.
Ekattorer Ghatak Dalal Nirmul Committee President Shahriar Kabir termed Ziaur Rahman as the main culprit of Bangabandhu killing and said through Bangabandhu killing, Bangladesh was taken back to the Pakistani ideology.
Noting that Bangabandhu had banned the politics in the name religion, he said, but Zia restored it.
Presided over by Workers Party General Secretary Fazle Hossain Badsha, poet and journalist Sohrab Hasan spoke at the discussion, among others.