Govt works to digitalize country's postal system: Jabbar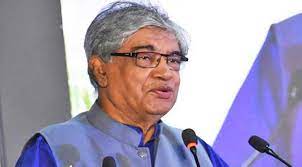 MANIKGANJ, Aug 12, 2022 (BSS) - Posts and Telecommunication Minister Mustafa Jabbar has said that work is underway to make the whole postal system digital in the country.
"Although the era of sending personal letter to one another has ended due to digitization, the post office is still the most reliable service provider for goods transportation. The whole postal system will be digitalized aiming to make the post office of the country a best institution. The work is underway in this regard" he said.
The minister said this while inspecting the construction work of Saturia and Balihati post office buildings in Manikganj district on Thursday.
Highlighting the programme taken to digitize the postal service, he said the survey work is going on to transform the post office into the best postal center in the world.
"This work should be completed in September. After that, we will formulate the project and implement it," he continued.
Jabbar further said that the authority concerned is working to this end under the direction of Prime Minister Sheikh Hasina.
Aiming to digitize the postal department of the country, he said already 14 sorting centers are being constructed and digitized.
The premier has instructed in several meetings to digitize all the sorting centers in 64 districts of the country, he added.